Police Day Thanksgiving Mass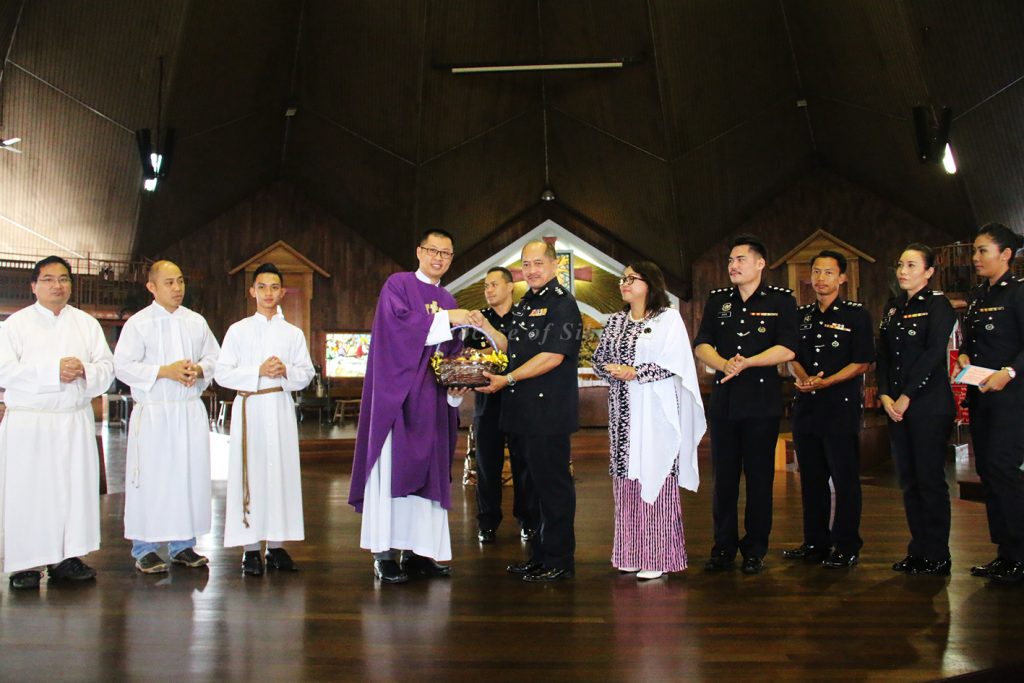 SIBU — Rector of Sacred Heart Cathedral Fr Philip Hu reminded the police that being in the police force is much more than a job but a profession full of difficulties and temptations.

He pointed out that the police are important in ensuring the stability of the society. "Without you, there will be chaos. You are also important for the protection of the citizen and your own family included. However you are often despised by the people that you swore to protect and yet without you, this society will be disintegrated." He said this during his homily at the Police Day Mass at Sacred Heart Cathedral, 10 April 2019.
Fr Hu also believed that loyalty, discipline and courage are virtues that are required among all police. He said disloyalty in the force would cause the force itself to be weakened.
He also said, like the church and other professions, the police force had the temptation to break the law or to misuse one's status. He reminded that the police are not private individuals working privately, but public officials subjected to public scrutiny and public criticism.
About 200 police personnel attended the Police Day Mass at Sacred Heart Cathedral that day. According to Sibu Police Chief, ACP Stanley Jonathan Ringgit, the Police Day Prayer was in conjunction with Police Day. He said that there are about 575 police personnel in Sibu and about 200 of them are Christians.
"Every year, various activities are being conducted and offering of prayers according to their own religion is being done.
"For us Christians, every year, we have different location for the prayer service. This year, we selected the Sacred Heart Cathedral to hold our prayer service," ACP Stanley told the congregation after the Mass.
He also said that crime in Sibu is currently under control and the police would put a lot of effort to maintain the peace in Sibu.