Gawai and Kaamatan celebrations reflect rich Borneo traditions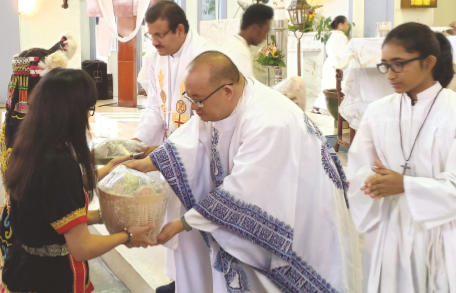 PENANG  — "It is with great joy that we celebrate the traditions of our brothers and sisters from Borneo," remarked City Parish priest Msgr Aloysius Tan at the start of the Gawai and Kaamatan thanksgiving Mass on May 19.
The event saw more than 150 students and working adults from Sarawak and Sabah converging at the Church of Our Lady of Sorrows, with many of them dressed in traditional costumes.
Msgr Tan presided over the Eucharistic celebration, with Fr Moses Rayappan from the Diocese of Malacca Johore and Fr John from Timor-Leste as concelebrants.
It was a rich display of the unique cultures of Borneo, from the traditional dance accompanying the entrance and recessional procession, to the usage of Iban and Kadazan languages in the liturgical readings and Mass hymns.
Special offertory items such as rice and local fruits were also presented at the Mass, as a symbol of thanksgiving for a bountiful harvest obtained throughout the year.
Msgr Tan thanked the Borneo parishioners for their tireless efforts in ensuring a meaningful celebration, which were being held at parish-level for the first time in nearly a decade.
"I hope that we can have this event in the parish every year, and may the church continue to be a gathering point and home for our friends from Sabah and Sarawak," he said.
After Mass, the celebrations continued with a fellowship meal at the canteen followed by performances, games and a lucky draw for those present.
Institut Pendidikan Guru (teaching college) student Jacqueline Sin from Sabah said the opportunity given to celebrate this festival helped her experience God's love and blessings.
"Celebrating Gawai and Kaamatan here in Penang shows that we are a family in Christ, no matter who or where we are," she said.
Another Sarawakian student from Universiti Sains Malaysia, Raymond Saging, who was part of the organising team, said he looked forward to better celebrations next year.
"Personally, I felt that this was a good initiative for us to share and introduce Sabahan and Sarawakian cultures to the local parishioners here," he said.
Aaron Lim HM