The White Rajah becomes real during visit to St Joseph's Private School
KUCHING — The cast and crew of The White Rajah of Sarawak (TWROS) experienced the realness of their characters during the visit of Lady Roberta to St Joseph's Private School (SJPS) on 1 August.
She is the granddaughter of the last White Rajah of Sarawak, Charles Vyner Brooke. Her ancestor was James Brooke, the first White Rajah on which TWROS is based. She was accompanied by her husband, Sir Kyffin Simpson and their daughter, Heidi.
The contact was made through her cousin nephew, Jason Brooke who is the director of The Brooke Heritage Trust which is in charge of The Brooke Gallery at Fort Margherita, and the Ranee Museum at the Old Courthouse.
Jason is the great grandnephew of Charles Vyner Brooke. Also present was the Archbishop of Kuching, His Grace Simon Poh.
The entourage was welcomed at the main entrance of the school by the SJPS Lion Dance Troupe. Lady Roberta found the dance antics of the lions very impressive.
They were then led to the school chapel and welcomed with a speech by the CEO of St Joseph's Family of Schools, Chris Chua. He gave a brief outline of TWROS, an original musical production with script and songs written by Fr Alvin Ng, SJ, musical arrangement by Benedict Lo and percussion arrangement by Wilson Tan.
Lady Roberta's visit was mainly to present to her a sample of TWROS. The part of the musical where the children sang for James Brooke at the home school of the McDougalls was reenacted for her.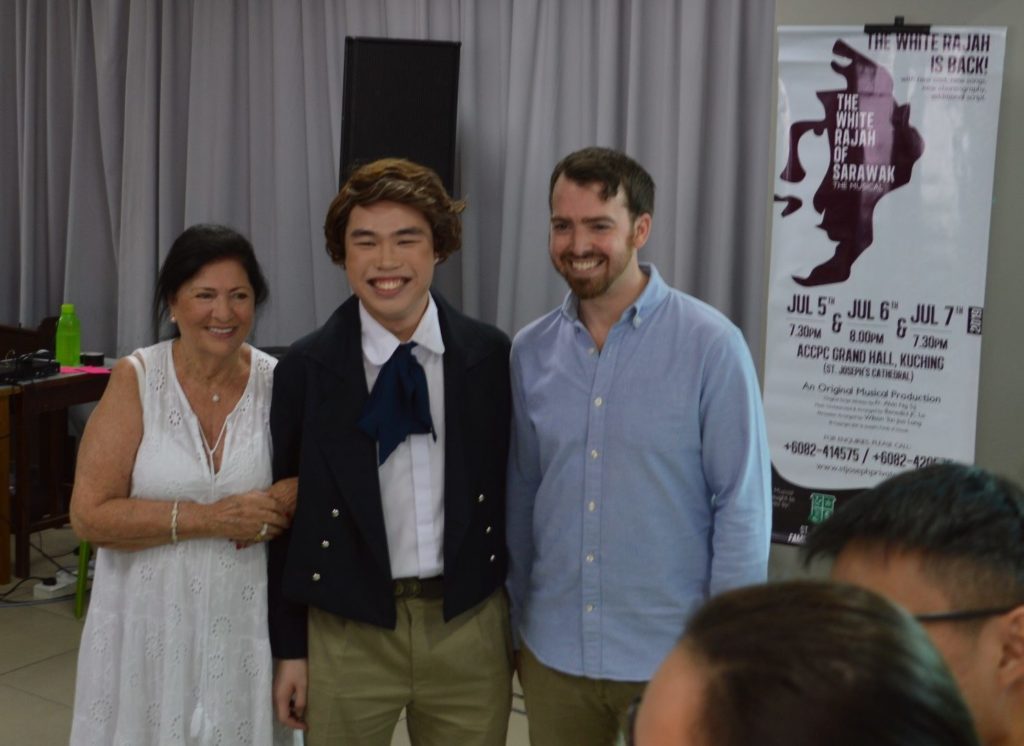 Lady Roberta was invited to join the scene to tell a story to the children. She told a lively story from her childhood days in connection to her grandmother, Ranee Sylvia. She did it very well because she is a renowned Christian children book writer with books such as Nana's Bible Stories and Tails from the Ark.
The children then sang Trust His Heart to her. Following that, the entourage was feted to a rendition of the other songs from TWROS, namely Dum Spiro Spero, One on One, Fairland Sarawak and the signature song, Kamek Orang Sarawak.
Lastly, the visitors were presented with TWROS souvenirs as remembrance of their historic visit to the school. On top of that, Archbishop Simon gave the St Joseph's Cathedral 50th Anniversary Commemorative Book to Lady Roberta and Jason Brooke.
Both the students and teachers were elated to have two members of the Brooke family visiting the school, especially during the post production period of TWROS.
This visit made them feel closer to the characters they have taken on. It was indeed a rare privilege for the students and the teachers.
Fr Francis Lim Chin Choy, SJ