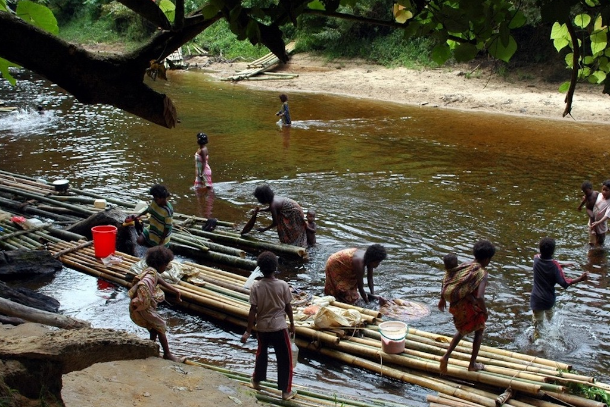 KUALA LUMPUR — Malaysia's indigenous community wants the government to end the practice of coerced conversion to Islam in the Muslim-majority country and show respect for others and their culture.
Known as Orang Asli (native people), the original inhabitants of the Malaysian peninsula claim that the insidious nature of the country's Islam-first policy is diluting their way of life without their consent.
A group of them this week handed over a memorandum to the nation's parliament urging Prime Minister Mahathir Mohamad's government to halt the practice of sending Muslim preachers to convert their community to Islam.
The group's spokesman, Anjang Aluej, said outside Kuala Lumpur's Parliament House on 10 July that the issue had been ongoing for many years and many of them had been surprised to find that they had even been registered as Muslims in their identity cards.
"It is a big offense to us as we should be given prior and informed consent before such changes are made," he told reporters.
"It is as if we do not have the freedom to choose our religion. Not only are we slowly losing our land, we are also losing our identity."
He claimed that their children were also being subjected to discrimination and bullying in government schools.
"I would like to also emphasise that this also applies to Christian proselytisers who come into our villages to spread the Christian faith. Please leave us and our customs alone," he said.
The memorandum also highlighted commercial activities like logging and mining on their traditional land. The community discovered that there were plans by the government to build hydroelectric dams near their villages, potentially forcing them to leave their homes.
The group also noted that Malaysian authorities had not been able to prevent encroachment and hunting taking place by outsiders on their land.
Anjang said there were also instances of outsiders living in their villages without the community's consent.
Other government services such as family planning programs that included distribution of medicines has not been adequately explained and were viewed with suspicion by the community, he said.
The visit to Parliament House to highlight the problems the disadvantaged community faced followed a tragedy that hit the community last month.
The government was forced on the defensive after 15 Orang Asli died in the space of a month. Three of the deaths were confirmed as being caused by measles but autopsies conducted on the remaining 12 bodies were inconclusive.
The Health Ministry later acknowledged that the villagers had been suffering from malnourishment and had not been vaccinated.
Traditionally animists, several members of the community have over the years embraced Islam and Christianity following state-sponsored proselytising by Muslims and evangelism by Christian missionaries.
Discrimination against non-Muslims is well known. In June 2007, members of the community claimed a church in one of their villages had been torn down by the Islamic state government in Kelantan.
The group's memorandum this week was received by Orang Asli Development Department director-general Juli Edo.
Victor Merrick (UCAnews)