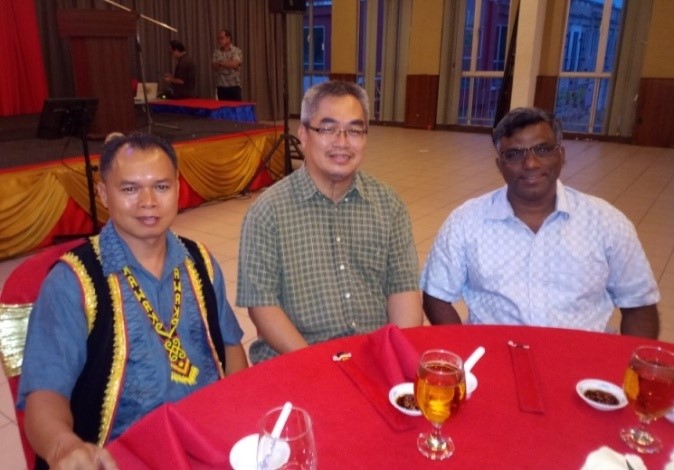 SERIAN — Spouses and friends of the members of the St Theresa's Parish Pastoral Council (STPPC) and her lay organisations gathered for a 3-in-1 dinner on 1 July at a restaurant in Siburan to celebrate the priestly ordination anniversaries of their three priests. They are Church Rector Fr Paul Herry (16 years), Fr Raj (17 years) and Fr Leonard Yap (10 years).
The joyful dinner was attended by 230 people with entertainment by the participants.
The three priests, in their separate speeches, thanked the people in the parish for their love and care for them, which enabled them to smoothly and efficiently carry out their duties as priests.
In his speech, Fr Paul Herry called for continued support to all the priests in the world saying that "your prayer is our strength!"
In his appreciation and congratulatory speech earlier, Chairman of the STPPC Mr Dennis Sung said "to be a priest is easy but to live the life of a priest is a great challenge especially with the vow they have taken, and facing the world of materialism."
Besides spiritual services in the parish, Fr Paul Herry had identified Bung Mako as a pilgrimage site for the faithful. This later became an attractive place for pilgrimage worship. He initiated the annual Pilgrimage Walk during Lent, and in the Parish Pastoral Council, he created a Mission & Human Development Ministry that includes Climate Crisis, Ecology and Mission Development.
Fr Arockyaraj is well known as Fr Raj who unselfishly shares through WhatsApp, the meaningful spiritual Reflection in English, Bahasa Melayu, Mandarin and Iban early every morning with parishioners.
Fr Leonard Yap has brought the Chinese community closer to the church.
Joseph Then