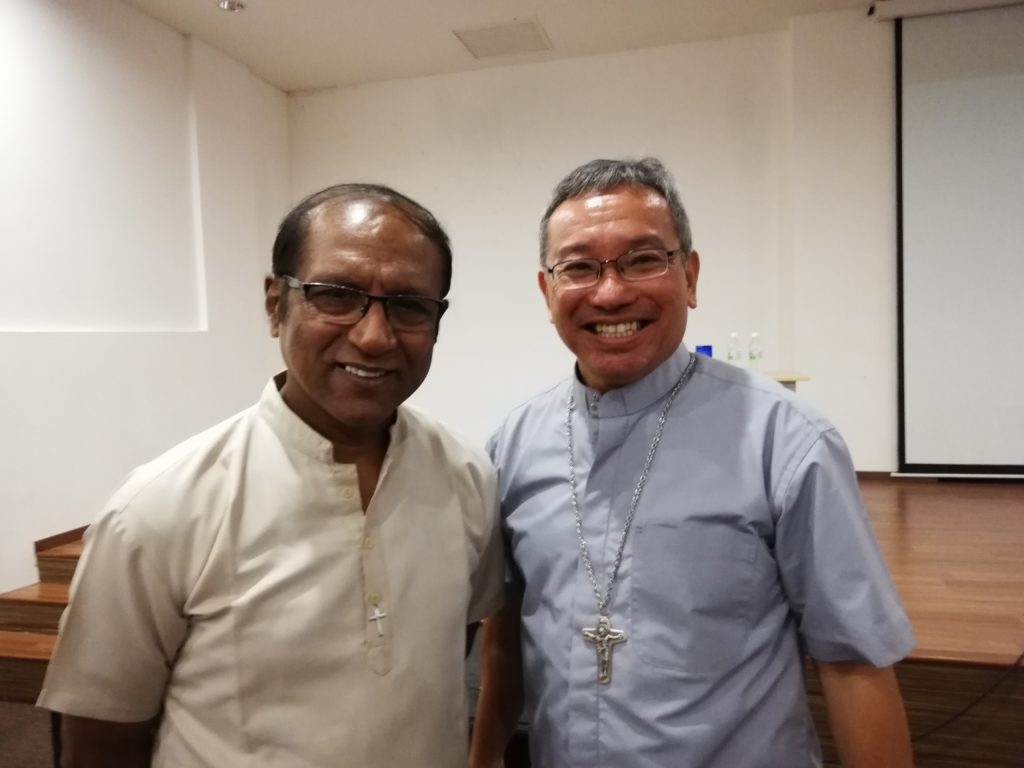 KUCHING — In conjunction with the Extraordinary Mission Year 2019, the Archdiocesan Pastoral Council (APC) organised a series of talks by popular speaker, Fr Jerry Rosario, SJ at the Mater Domini auditorium, ACCPC, St Joseph's Cathedral Kuching.
The talks on Mission which were spread over 3 days from 30 July – 1 August, were specifically programmed for the different audiences.
Wikipedia describes Fr Jerry Rosario as the barefoot Jesuit priest, lawyer, professor and a world traveller – mainly to the poorest countries. He chooses to identify himself with the 'untouchables', the Dalits, living among them in villages for more than 15 years, and has not worn shoes for over 30 years.
In reality, Fr Jerry is a civil lawyer, spiritual counsellor and a visiting professor in more than 45 institutions both in India and abroad. He has authored 58 books on topics such as sociology, philosophy, youth and women power, spirituality and religious theologies, and has lectured in over 30 countries. He holds a Ph D in political philosophy cum theology.
In his opening session on 30 July, the animated priest had everyone in stitches, drawing peals of laughter that resonated the auditorium, paving the way for a more serious approach on the topic "Mission in Socio-Political Context", in essence, a subject on the social teachings of the church.
He touched on the Gospel Value of Justice, to change injustice to justice, and to promote equality. Fr Jerry also explained why in later years, it was imperative to start growing local missionaries.
In a precise manner, he explained how the Incultured Church evolved. Step by step, participants were taken through the social, economical, political, cultural, religious and ideological dimensions of integration.
In a thought provoking way, it was pointed out that it was a sin to be non-political as a Christian. We have to look into the aspect of spiritual transformation to combat the burning issues of the day, which are Corruption, Catholicism, and Clerical.
Fr Jerry's talks also covered topics on:
• Mission – Highlights of Christus Vivit (latest post synodal exhortation of Pope Francis), targeted at youths.
• Mission – Qualities for Clergy Today, specifically for seminarians.
• Mission toward the Gospel of Creation (Evangelii Gaudium and Laudato Si)
Fr Jerry's visit was made possible through the invitation of Archbishop Simon Poh, as he was in the region to give similar talks in Peninsular Malaysia.