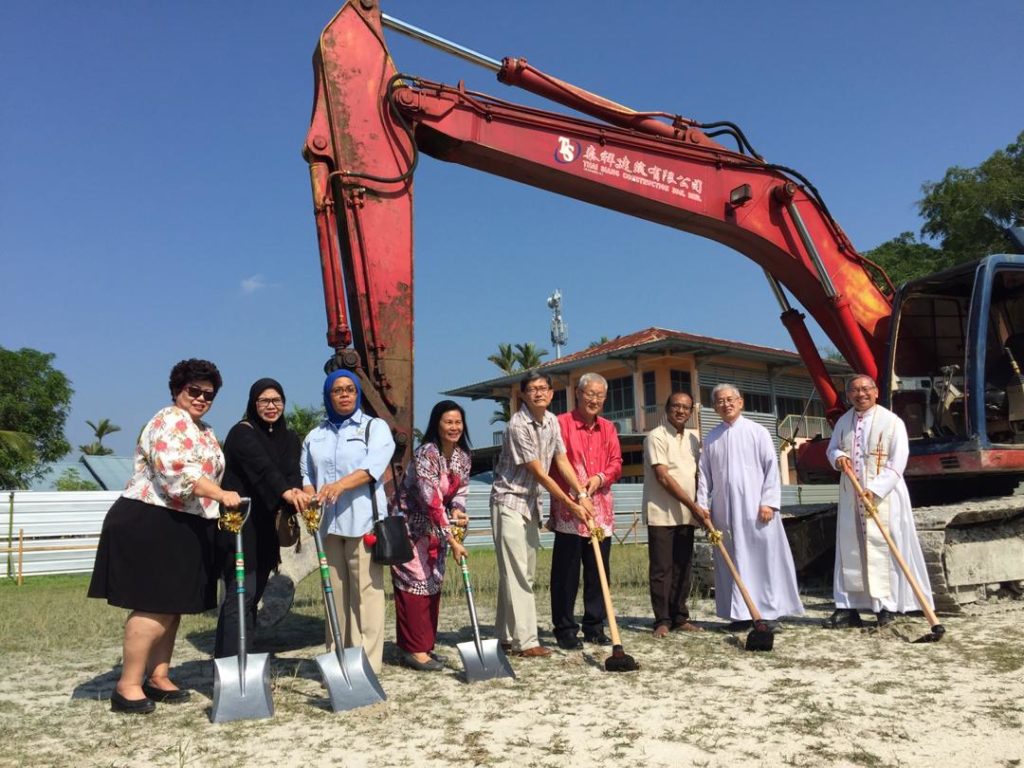 KUCHING — On 1 August, about 100 people including Board members, Headmistress of the school, members from the Parents Teachers Association, Ketua Kampung, contractor, school children and invited guests witnessed the blessing and ground breaking ceremony by Archbishop Simon Poh for the construction of a new block of 8 classrooms for SK St Andrew, a 60-year-old school.
SK St Andrew, Sungai Apong was opened on 21 February 1958 and sits on a small hill in an urban setting just a few minutes away from Kuching city. It is a government aided primary school under the Catholic Mission which has a rich history spanning six decades.
The school was started by Sister Clare Phenomena Ngui who was the only teacher in 1958 with 45 students. Father Harry Van Erp oversaw the school which was then under the parish of St Joseph's Church.
The school grew to 230 pupils by 1962. The school was under the administration of Fr Peter Aichner in 1965.
Currently SK St Andrew has an enrolment of 395 students in 12 classes with 29 dedicated teachers and three supporting staff. Students are divided into morning and afternoon sessions due to insufficient classrooms.
Almost all are from families who had migrated from kampongs and have settled around Sungai Apong areas. These students are from Malay, Iban and Bidayuh families.
The school aims to equip this generation of students with basic foundation for their first six years in primary education by embracing the principles of learning, nurturing and empowering the students.
"We would like to prepare them for their teen years in secondary school by empowering them now in their primary school years," said Simon Poh, Catholic Archbishop of the Archdiocese of Kuching.
He further said that "SK St Andrew is unique in a sense that though located in Kuching City, it is serving families who had migrated from rural areas. These parents had made the move to Kuching so as to provide their children a better future. As a centre of education, our 'city school' is now in a privileged position to equip these students."
Archbishop Simon Poh further mentioned that "since 2016, the Catholic Mission's new Board of Management has strived to improve the school facilities. They have worked tirelessly to realise upgrading works to improve the existing facilities which are long overdue."
The Project will include a new two-storey building housing 8 classrooms and the upgrade and repair of existing facilities. This will maximise the use of school facilities for extra-curriculum activities, afternoon classes for tuition, homework and examination preparation.
The estimated project cost for the classroom block is RM1.5 million and an additional RM900K estimated for the upgrading of existing facilities, including improvement of the internal road and drainage. The project though started, has a shortfall of RM500K and the Parents Teachers Association and Board members will be undertaking fund raising exercises to cover the shortfall.
The school is under the pastoral care of St Peter's Parish whose Rector is Fr Vincent Chin, who also attended the ceremony together with a visiting Jesuit priest from Mumbai, Fr Jerry Rosario, SJ.
St Peter's Parish Council