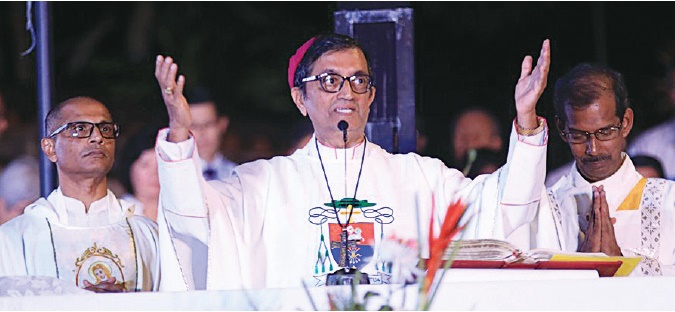 BUKIT MERTAJAM — Pilgrims from far and near started to arrive at the grounds of St Anne's Church as early as 5.00am on the weekend of July 27 and 28.
There were Masses from 8.00am in various languages on both these days. The church was packed for all the Masses. Thousands of faithful lined up at the Shrine of St Anne (the old church) to offer their petitions, candles and flowers.
The annual open-air Mass was held on Saturday night, with thousands gathering to participate. The 8.00pm Mass was celebrated by the Bishop of Penang, Rt Rev Bishop Dato Sebastian Francis, the parish priest of St Anne.
In his homily, Bishop Sebastian stressed on the theme Mission to Unite Humanity. "Today I call you as people of God, all you men and women who seek God with a sincere heart. All who are listening to their conscience, to their hearts and acting according to their conscience, are people of God."
"Everyone who shows mercy and compassion to the hungry, thirsty, naked, strangers, those in prison and to those who are sick, are indeed the people of God. So I address all of you people of God, not just the baptised but all gathered here."
"St Anne unites all of us in this sacred Shrine, not only as devotees but as God's people. We are called to unite humanity. All who believe in Christ will know that the true Christ unites and never divides. This is the vision and mission of Christ. Jesus Christ is the fullness of God and a human being, representing humankind and saving all of us."
After the homily, a slight drizzle started, followed by a heavy downpour. Though the celebrants were wet, the Mass continued. The procession began when the rain subsided.
The rain did not dampen the spirit of the pilgrims who had gathered at this holy place. Many took this as a blessing from God.
After the procession ended, the annual concert, with the band Psalm 33, entertained the crowd with their upbeat performances.
On Sunday, Masses in English, Tamil and Mandarin were celebrated from 8.00am until the noon Mass, with the sub-theme Mission to Love.
This annual St Anne's feast is a concrete expression of unity and love of people from all walks of life. A total of 100,000 devotees gathered at this holy ground for the 10 days of celebration.
Marlina Sara Sylvester HERALD