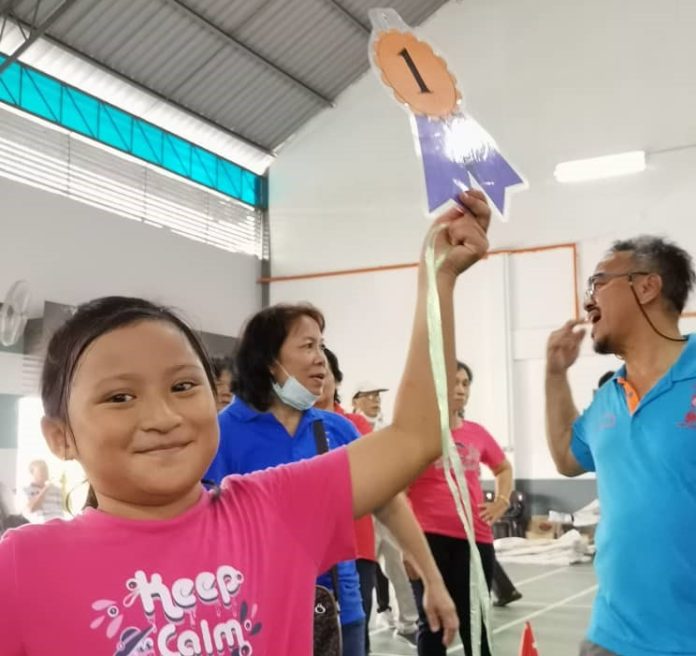 KUCHING — The Legion of Mary Kuching Comitium organised a Family Day on 9 September at the Kampung Semeba Community Hall. Despite the hazy weather, over 200 people turned up which made the event a major success.
The main aim of the event was to bring members of every praesidium together and have fun with all the exciting events and games planned. Legion of Mary members, young and old, came along and took part in all the activities and enjoyed a luncheon whilst sharing smiles and laughter.
The one-day event spearheaded by Our Lady Queen of Families Curia started at 8am, with opening prayers and a speech delivered by the Kuching Comitium President, Joseph Wong. The recitation of The Catena followed, led by Father David Au. The Battle Hymn of the Legion was also sung as part of the opening ceremony.
To warm up for the fun day of games and excitement ahead, the energetic ladies from the junior praesidium led the aerobics exercise with catchy dance tunes. When the crowd was warmed up, the gunny sack race for the juniors started.
Other activities for the junior and senior participants included filling water bottles with a cup, nylon circle game, paper cup game, balloon human train, blowpipe and dart throwing. The karaoke session was a big hit.
It was nice to see the junior and senior praesidium members working together at all the games with a great sense of camaraderie, coming together to pit their wits, agility and teamwork against each other in a series of friendly matches.
At 12.00pm, after the final game, Spiritual Director Father Nicholas Ng gave a speech and recited the prayer before meal. After that, the participants helped themselves to a pot luck lunch. A wide variety of food was laid out for everyone to enjoy.
To end the day, a prize giving ceremony was held to reward the winners of the games held earlier.
Joseph Wong