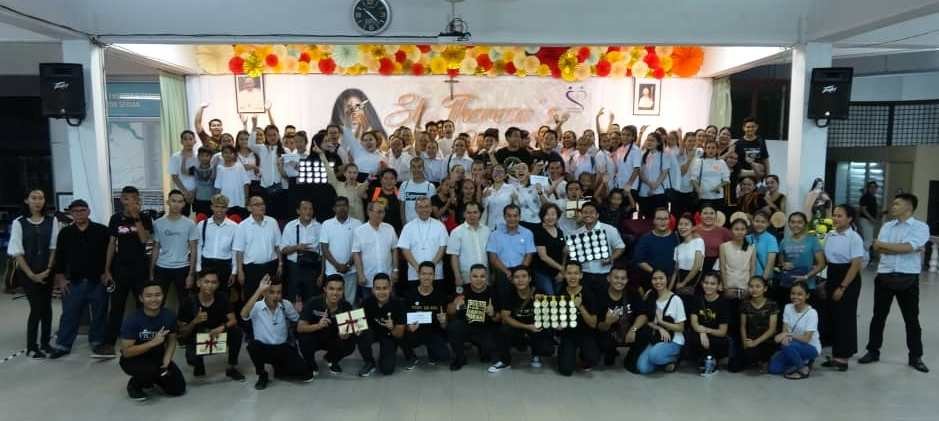 SERIAN — St Theresa's Parish Pastoral Council (STPPC) successfully celebrated the Feast of St Theresa, the Patron Saint of the Parish on 28 September, ahead of the actual feast day on 1 October.
A big crowd of participants from far and near Serian attended the auspicious celebration with a thanksgiving Mass, choir competition, entertainment items, lucky draws, sales of food, drinks and handicrafts etc.
During the function, 415 qualified candidates were confirmed in the afternoon Mass for the Sacrament of Confirmation, presided by His Grace Archbishop Simon Poh.
188 Holy Communion Ministers were installed by Archbishop Simon Poh at the Thanksgiving Mass on the next morning, 29 September.
Besides the Archbishop, those attending the function were Rector Fr Paul Herry, Parish priests and Sisters, Chairman of Parish Pastoral Council Dennis Sung, Chairman of Special Functions Committee Dennis Edwin, members of the various lay organizations, parishioners and friends from far and near.
In his welcoming speech, the Chairman of the Parish Pastoral Council welcomed everybody for their support in one way or another, especially YB Dato Seri Dr Richard Riot Jaem, YB Dato Sri Michael Manying, YB Tuan John Ilus and YB Tuan Martin Ben for their unfailing support and generosity towards the parish and the Sarawak State RTP (Rural Transformation Programme). Dennis thanked the YBs for donating the Grand Prizes for the lucky draws.
He said, "this celebration is an annual event to raise funds for the maintenance and upkeep of the main church and also for the physical, pastoral and spiritual activities, covering 106 outstations including those in the Simunjan areas.
"Currently, the projects in our pipeline are upgrading the grotto of Mother Mary with shed, replacing of our aging benches and upgrading the existing altar of our main church."
Dennis continued, "we do not have a procession around the town this year because the construction of the Pan Borneo Highway nearby is in progress. However, it does not deter our spirit to go on with our Feast Day celebration in our own way.
"An occasion like this also gives us the opportunity to enhance and foster relationships among fellow parishioners and the general public."
Chairman of Special Functions Committee Dennis Edwin wished to thank all members, specially John Sup and PYM of leadership Sabastian and Danny for excellent jobs done.
The choir team, Christ the King from Kampung Riih Daso emerged winner in the Choir Competition while Shamrock Worship Team from Kampung Tangga Mawang and Davis's Junior team from Kampung Riih Mawang walked away with second and third prizes, respectively.
The owners of the unclaimed lucky draws will be informed accordingly to collect their prizes.
Joseph Then