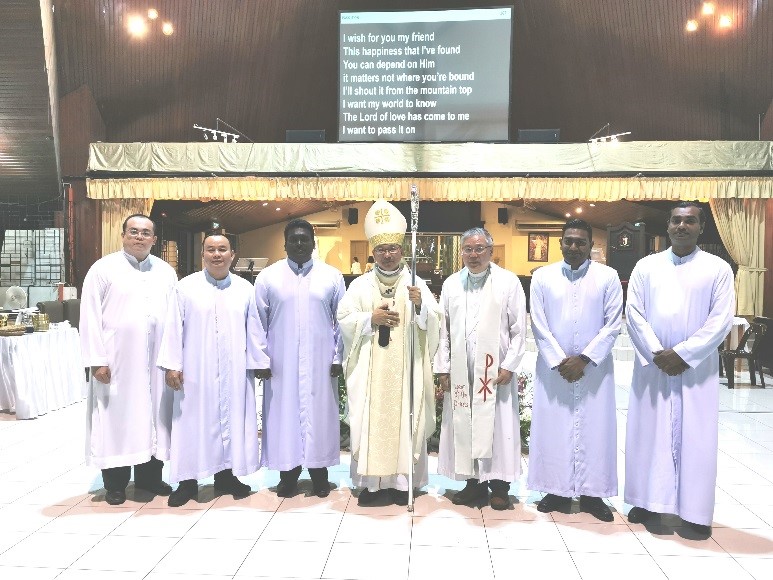 KUCHING — Pada malam 4 November, Uskup Agung Simon Poh bersama lebih 10 orang paderi merayakan Misa Kesyukuran yang diadakan setiap tahun bagi ratusan penyumbang, termasuk kumpulan 'Friends of St Peter's' (Rakan-Rakan Kolej St Peter), di Katedral St Joseph.
Misa Kesyukuran ini dirayakan untuk memanjatkan kesyukuran kepada Allah bagi para penyumbang Seminari Utama Kolej St Peter, di atas sokongan mereka yang tidak kenal erti lelah kepada golongan seminarian dalam bentuk kewangan dan lain-lain.
Dalam Misa tersebut, Uskup Agung Simon mengangkat lima orang seminarian kepada Ministri 'Acolyte'. Mereka adalah: Raymond Lee Seng Huat (Sandakan), Henrry ak Umar (Kuching), Gnana Selvam a/l Berentis (Kuala Lumpur), Desmond Jansen a/l David Anthony (Pulau Pinang) dan Raymond Raj a/l Jeremiah (Pulau Pinang).
Sekarang 25 orang seminarian sedang menerima pembentukan di Kolej St Peter. Mereka terdiri daripada empat seminarian dari Kuching, seorang dari Sibu, 12 dari Sabah, tiga dari Kuala Lumpur, seorang dari Melaka-Johor dan empat dari Pulau Pinang.
Mereka yang berminat untuk menyokong Kolej St Peter menerusi kumpulan 'Friends of St Peter's' diminta menghubungi pejabat Kolej St Peter di talian 082-244496, atau hantar emel ke [email protected] untuk maklumat lanjut.
Philip Hii / Audrey Yu (Terjemahan)
---
Berita dalam Bahasa Cina: 聖伯鐸大修院年度感恩彌撒