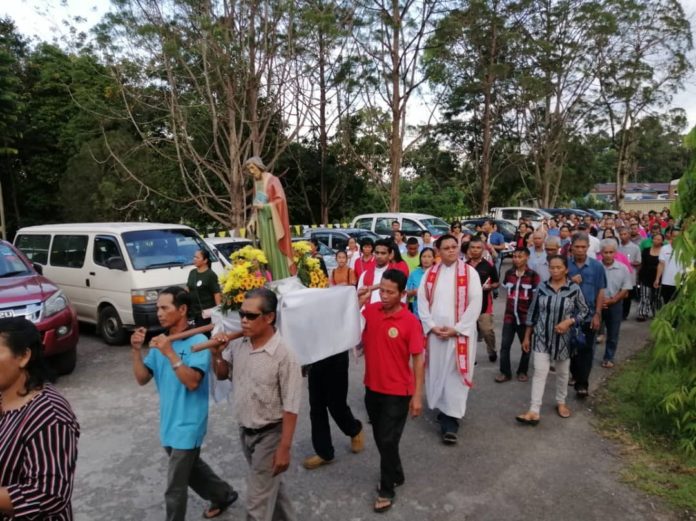 BUNAN-TEBEDU — "The greatest miracle by St Jude I have seen, is this parish," said Archbishop Simon Poh of Kuching during his speech at the St Jude's Parish, Bunan Feast day and Eucharistic celebration on Saturday evening, 26 October.
"Imagine if the Church does not exist here, there will be no school, no clinic, no koperasi. What would this border village be?" He noted that St Jude is the patron saint for hopeless cases and today the development of St Jude's Parish is attributed to the patron saint. The prelate then encouraged the parishioners of St Jude working in the cities or towns, to come back to their villages and contribute to the development of the parish.
The feast day celebration was preceded by the 9-day novena prayers and Masses in honour of St Jude, and a series of talks given by invited speakers on the theme, "Baptised and Sent: The Church of Christ on Mission in the World".
On the 9th day, there was a procession with the statue of St Jude from Kampung Bunan Gega to the church where Archbishop Simon Poh presided at the feast day and thanksgiving Mass together with Archbishop Emeritus John Ha; the Provincial Superior of the Claretian Missionaries of Chennai Province, Fr Jesu Doss CMF; and all the priests serving at St Jude's Parish, Bunan.
After the Eucharistic celebration, the Archbishop launched the new "Buk Jeran Salib", another option for parishioners to pray the Stations of the Cross, especially the bed ridden. Archbishop Emeritus John Ha also unveiled the "Buk Sermon Sewa A Duwah Sanda Bidayuh Serian", which is a compilation of the homilies prepared by Archbishop John Ha.
The Eucharistic celebration was followed by a fellowship to mark the event.
Fr Galvin R Ngumbang