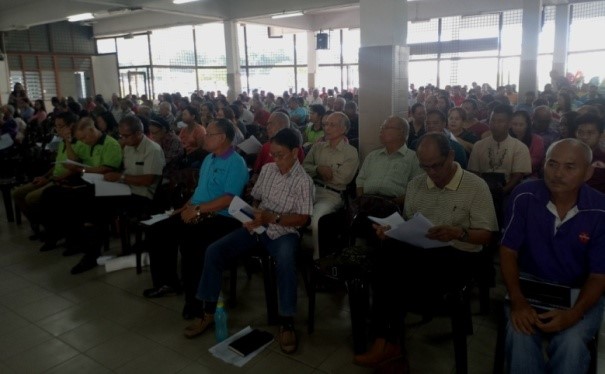 SERIAN — The St Theresa's Parish Pastoral Council held a dialogue with the principal officers of the Village Church Committees (KGK) and the Basic Christian Communities (BCC) under the jurisdiction of the Parish on 21 December at the Church Hall.
About 300 participants attended the dialogue to foster better relationship and understanding.
Also present at the meeting were Rector Fr Paul Herry; Chairman of the Parish Pastoral Council, Dennis Sung; Vice Chairman cum Treasurer of Pastoral Centre Fund, Anthony Taguk; Secretary Wilson Banyui; Chairman of Special Function Committee, Dennis Edwin; In-charge of Ecology, Alas Laseh; In-charge of Mission, Idin Muu; MC Willington Sabang, and members of the Parish Pastoral Council.
The meeting commenced after the blessing prayer by Fr Paul Herry.
In his opening speech, Dennis Sung reported the completed projects of the council in the year 2019 and the planning projects for the coming year 2020. He thanked everybody for helping to raise funds, helping out in one way or another, so that implementations could be smoothly done. He hoped for a similar support in the coming years.
He also thanked the outgoing rector, Fr Paul Herry, for his invaluable advice, assistance and co-operation to the council and wished him a happy transfer to serve the people of God at another parish.
Dennis told the meeting that the Pastoral Centre Fund was launched in the year 2000. The Centre was supposed to be built at the site of the existing SK St Theresa near the church. This project has unfortunately been delayed due to the delay of relocation of the school.
At the dialogue, Vice Chairman cum Treasurer of the Pastoral Centre Fund, Anthony Taguk presented the treasury report of the Pastoral Centre Fund; Alas Laseh presented his report on Ecology, and Idin Muu presented his Million Leaders Mandate.
The Q & A session was actively participated with solutions satisfactorily given, and after a short break for lunch before Holy Mass, the dialogue resumed.
Joseph Then