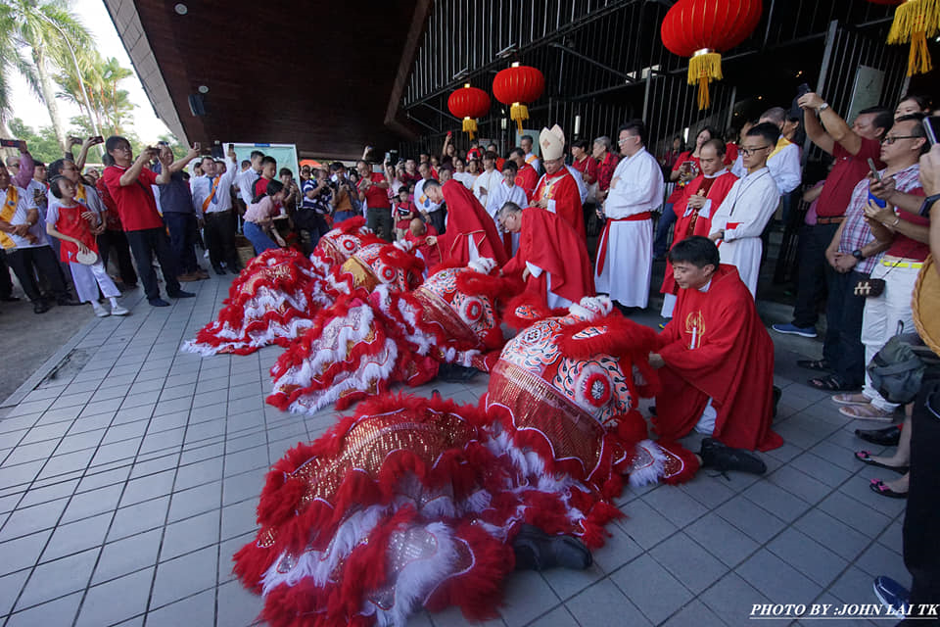 By Fr Francis Lim Chin Choy, SJ
KUCHING — On 21 December last year, the SJPS Lion Dance Troupe participated in Singapore's largest mass lion dance display. The event entitled "Peace & Prosperity Singapura 2019" was organised to commemorate Singapore's bicentennial – a celebration of racial and religious harmony.
After the event, each pair of dancers was given a free lion head. That is how the SJPS Lion Dance Troupe managed to procure four new lion heads.
On 25 January 2020, after the Thanksgiving Mass on the first day of Chinese New Year at St Joseph's Cathedral, Archbishop Simon, together with the other concelebrating priests, blessed the four new lion heads.
The heads are nicknamed after two well-known Jesuits, a Franciscan and a Lasallian. They are Pedro (after the charismatic Jesuit superior general of the 70s and 80s, Pedro Arrupe), Bertie (after the Jesuit cardinal, St Robert Bellarmine who is the patron of the Jesuit community in Kuching), Jonny (after St John Baptist de la Salle, the founder of the Lasalle Brothers from which the education tradition of St Joseph's School in Kuching came from), and Tony (after the great Franciscan preacher, St Anthony of Padua).
These four new lion heads join the other two heads which were blessed last year during Chinese New Year. They are nicknamed Iggy (after St Ignatius of Loyola, the founder of the Jesuits) and Kiko (after St Francis of Assisi, the founder of the Franciscans).
The lion dance troupe is made up of students of St Joseph's Private School who are interested in the performing arts and keen on preserving culture.