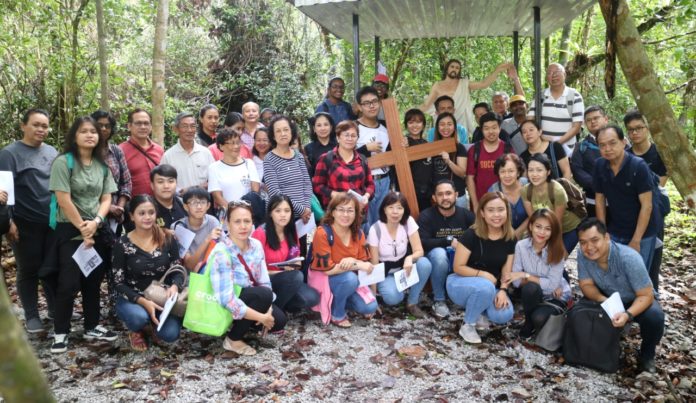 By Georgia Livan
KUCHING — On 4 January, the English RCIA from St Joseph's Cathedral organised a pilgrimage to the Garden of Gethsemane, Bunan Gega, Serian with the purpose of building a relationship with God for the baptism and confirmation candidates.
The trip was also for the candidates to build a closer bond with their sponsors and to break free from the stress of a busy week. This pilgrimage was encouraged by Fr Larry Tan, SJ, Sarah Marimuthu (Faith Formation Coordinator), and Tony Teo (English RCIA Coordinator) and was participated by 51 pilgrims.
Some of the activities included Rosary recitation, Stations of the Cross, Divine Mercy recitation, and a Mass that was celebrated by Fr Carneelyes. Before the pilgrimage ended, the pilgrims visited the church of St Jude, Bunan Gega.
Testimonies from some participants
For this pilgrimage trip to Bunan Gega, what inspired me was the working team members. Their contributing attitudes towards this pilgrimage were very encouraging and their teamwork was great. Even though they are young, they try their best to look into every aspect of this trip to make it a success. Congratulations to all who contributed one way or another towards bridging all RCIA candidates, sponsors as well as family and friends together as what our Lord has taught us. Great job. Well done. And indeed, we all were so blessed with dry weather and smooth operations all the way. Thanks be to God, Amen. – Evelyn Teo
Though the visit to the "Garden of Gethsemane" and Stations of the Cross was very brief, it was a worthy trip that ended with a Mass. I realised Bunan wasn't that far from Kuching. The garden was beautiful. I pray birds will come and make it as their home. And of course, we made new acquaintances on the trip. – Paul Shanon
This experience has truly been a huge blessing, not only for me but for my family. We experienced so many little blessings, from having the perfect weather to having enough food for everyone to enjoy. God really opened our eyes to appreciate everyone and everything around us, no matter how big or small. We enjoyed everyone's presence being together and we hope for more activities like this to be organised in the future. – Patrick Parameswaran & Family.
I would like to take this opportunity to thank the organiser, Brother Kelvin and his team and Brother Tony for making this trip a success to expose our new brothers and sisters in Christ to the passion of our Lord. This centre with its serene, lush forest brings us back to nature and experience God in contemplative attentiveness; staying with the Lord in prayers peacefully. A big thanks to the local Catholic parish community for making this centre a reality to everyone to enjoy its fruits and unique features of the Stations of the Cross, Rosary Garden and Divine Mercy Chapel. – Patrick Jee