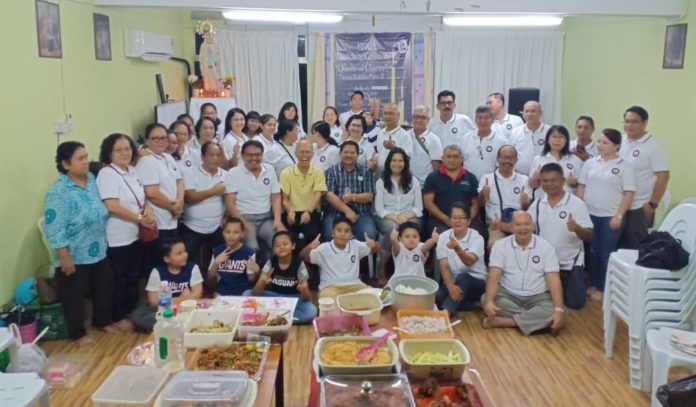 By Matthew Mark Dangus
KUCHING — A new Bloc Rosary has been born out of the Vessel of Honour, group 3, and named Queen Of Charity (QOC). Its members unanimously elected Francis Ripin to be the chairman and Hardy Tan La Kia as deputy of the new Family Bloc Rosary.
A large crowd comprising family members of Queen of Charity, friends and their spouses, attended the launching ceremony recently. The event was to foster fellowship among the members of the congregation as well as with members from other family bloc rosaries within zone 10, Malihah. The rosary prayer was led by Rose Pudong assisted by Hardy Tan La Kia.
The newly elected chairman welcomed all attendees especially Fr Larry Tan SJ, the assistant priest of St Joseph's Cathedral, Stephen Geri and Anthony Digo, FBR central committee members, Joe Junit, Chairman Queen Of Apostles (QOAP), Cyril Ardon, Chairman Queen Of Angel (QOA), Edward Jalip, Chairman Vessel Of Honour, and assistant coordinator zone 10 Malihah, Petrus Eli.
In his short address, Francis Ripin, who was also chairman of the organizing committee said, "I seek your blessing to find the best way for us to be together for the sake of our communities especially zone 10, Malihah."
FBR Vessel of Honour was formed 24 years ago by a small group of Catholic families. Today it has grown to about 250 families. The Centre was blessed and launched by Archbishop Emeritus Peter Chung.
Stephen Geri, who spoke on behalf of the FBR central committee, praised the rapidly growing numbers in zone 10 Malihah. As such he said, the role of youths is significant and very influential in moving and shaping the direction and the future of the Christian world. He is confident and comfortable in combining faith with modernity, as well as not dispelling traditional values easily without first verifying the facts and data and proving their relevance in today's world.
They play the role of Christian ambassadors, conveying the message of moderation, looking at the world as a stage of cultural encounters rather than a clash of cultures, and interprets cultural diversity as a beauty that symbolises the richness of God's creation and greatness, he said.
The glory of the community in future relies on the success achieved by our young Catholics and citizens of this nation. They are to become agents of change, strive to do their best, be determined in exploring new horizons and remain strong in their faith.
Fr Larry Tan, in his short remarks said that the goal is to promote peace and harmony among the people so that our society would experience less disputes. He stressed about the importance of spiritual teaching, the right to believe in God and also the key principles that generally, all religions expect mankind to be good to one another. It is important for us to never be influenced by negative influences, whether from inside or outside. The peace is for all people of good will, for all walks of life, race or faith, to work together hand in hand for the common good of everyone.
There was a presentation of gift to Fr Larry and a cake cutting ceremony at the launch of the new Family Bloc Rosary. Those present were treated to local and western delicacies, some of which were brought in by parishioners in the spirit of giving and sharing with their friends.