By Shannon Wei
KUCHING — The annual multi-religious forum at the Islamic Information Centre (IIC) saw a panel of invited religious representatives across Kuching coming together to discuss similarities under one common theme: "Peace, Love and Faith: The Cornerstone of a Harmonious Society."
Fr Felix Au, from the Roman Catholic Church, attended the forum on 14 February to share a Christian's perspective, alongside Kuching Archbishop Simon Poh who made a guest appearance that morning.
He touched on the importance of loving God as well as others to bear the "fruit of love" that is peace.
"Loving God is the first and greatest of all the commandments," Fr Felix said.
"And while it articulates the centrality — the importance of loving God — the practical expression of loving God is closely connected to the other great commandment — to love your neighbour as yourself."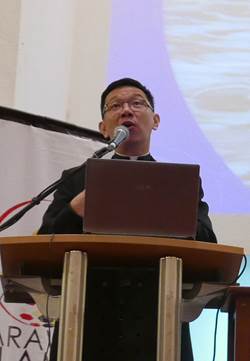 Fr Felix also referred to the parable of the Good Samaritan in bringing peace and harmony within Malaysia, and to be open, humble and respectful to fellow brothers and sisters to bear the fruit.
"Our goal in religious dialogue should not be to win an argument or to make converts but to arrive at peace, understanding and greater respect for each other."
Taoism representative Desmond Tan also shared the importance of creating harmony with nature, while Gurdial Singh, representing Sikhism, shared that activating love within oneself and having love for God, are keys to achieving peace.
The forum, held from 8.00am to 12.00pm, also highlighted views from representatives Chin Chia Chua (Baha'i) and Wan Muhammad Mujahid Bin Wan Alwi (Islam). It was moderated by CEO of IIC, Puan Hajah Zabariah Binti Haji Matali.
This year's forum marks its 12th year running with the aim to discuss current issues and concerns among various faith groups.