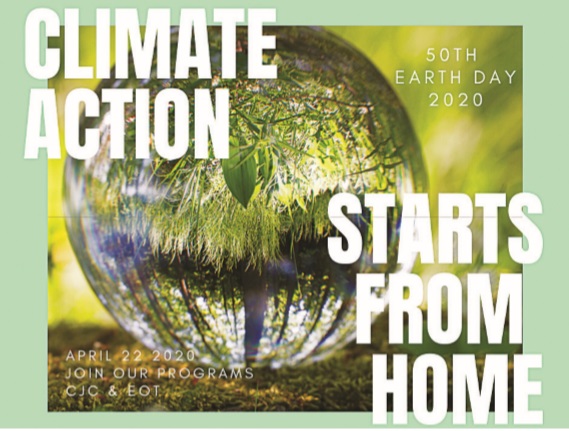 By Christina David
KOTA KINABALU — Despite the Movement Control Order, the Archdiocesan Creation Justice Commission (CJC) went ahead with plans to hold programmes to celebrate the 50th Earth Day on April 22.
As a response to both Pope Francis' Encyclical Laudato Si' and the Archdiocesan Mission statement, CJC and its youth-wing, Eco-Outreach Team, have organised several online activities in an effort to appreciate Mother Earth, to instil a sense of responsibility and to increase awareness among parishioners to care for the environment.
CJC Coordinator, Sr Calista Saliun, is inviting all parishioners under KK Archdiocese to take part in the Earth Day programme as outlined by the commission from their own homes as a way to sow awareness in the family of the importance of caring for the environment.
A series of activities were held on Apr 22 involving families and individuals. Among them were Praying for the Earth, a demonstration on candle-making using used-oil, seedling planting, a demonstration on erosion due to forest cutting, a demonstration on an 'upcycle' project using old clothes, a Laudato Si' Earth Day poster competition, online screening of the Laudato Si' Mi Signore song and a video clip showcasing activities by CJC and EOTeam.
These programmes were carried out according to the time specified on that day, in their Facebook page "Commission for Creation Justice of Kota Kinabalu" and Instagram "EcoOutreach Team".
In his Earth Day message, Fr Russel Lawrine, CJC Spiritual Advisor, invited all to pay attention to our beloved earth and to unite and walk together in mission in order to save it from further destruction. The way to do that is to respond to this year's Earth Day theme Climate Action.
To realise the response, Fr Lawrine said action must begin with ourselves, changing our lifestyle and the bad habits that contributed to environmental degradation.
"Each change that we undertake, whether it's big or small, will greatly impact our life and also this earth. What is more important is the commitment in each action that we take to save it," said Fr Lawrine.
Sr Calista said each person has a responsibility to care for and to preserve the earth as it is home not only for this generation but for the next ones. We can each collaborate with one another as God's instrument to care for His creation according to our own culture, experiences, involvement and talents (Laudato Si' no 14).
Source: HeraldMalaysia