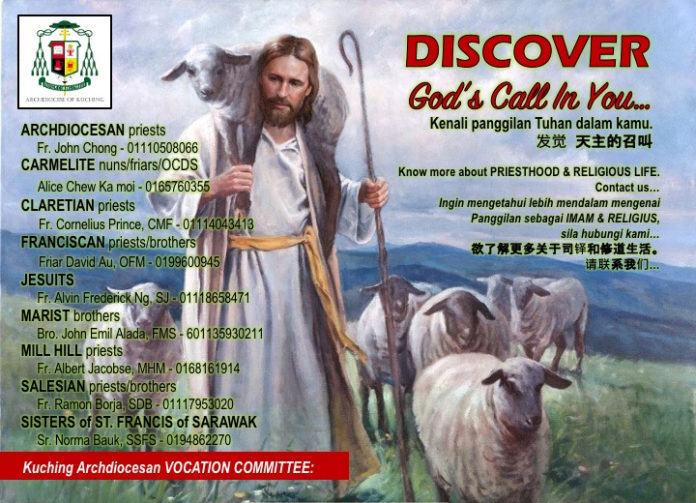 By Ivy Chai
KUCHING — The fourth Sunday of May (3 May, 2020) commemorates World Day of Prayer for Vocations.
In previous years, the days leading to Vocation Sunday will typically see parishes organising talks or roadshows to promote vocations to the priesthood or religious life. However, because of the MCO directive from the government, all such events are not possible this year.
In the Roman Catholic Archdiocese of Kuching, no virus or MCO can stop our shepherds from promoting Good Shepherd Sunday or Vocation Sunday. Archbishop Simon Poh has taken the lead by participating in some video clips to show the solidarity, love and care our shepherds have for their flock, and what it means to answer, "Here I am Lord" when they hear the Lord calling "Where are you?"
Here I am Lord
This video clip was put together with Archbishop Simon, priests, religious sisters and brothers and youth choirs located in Kuching, Sibu, Sabah, Pontianak (Indonesia), and the Philippines, with the common purpose to praise and worship Jesus, for the Glory of God. No COVID-19 pandemic can stop them in their steadfast love for God!
Shepherds After My Own Heart
This is a video clip compilation of Fr Jude David, Fr Ignatius Yeo, Fr Anselm Phang, Fr Stephen Yim and Archbishop Simon Poh entitled "Shepherds After My Own Heart".
Inspiring Vocation stories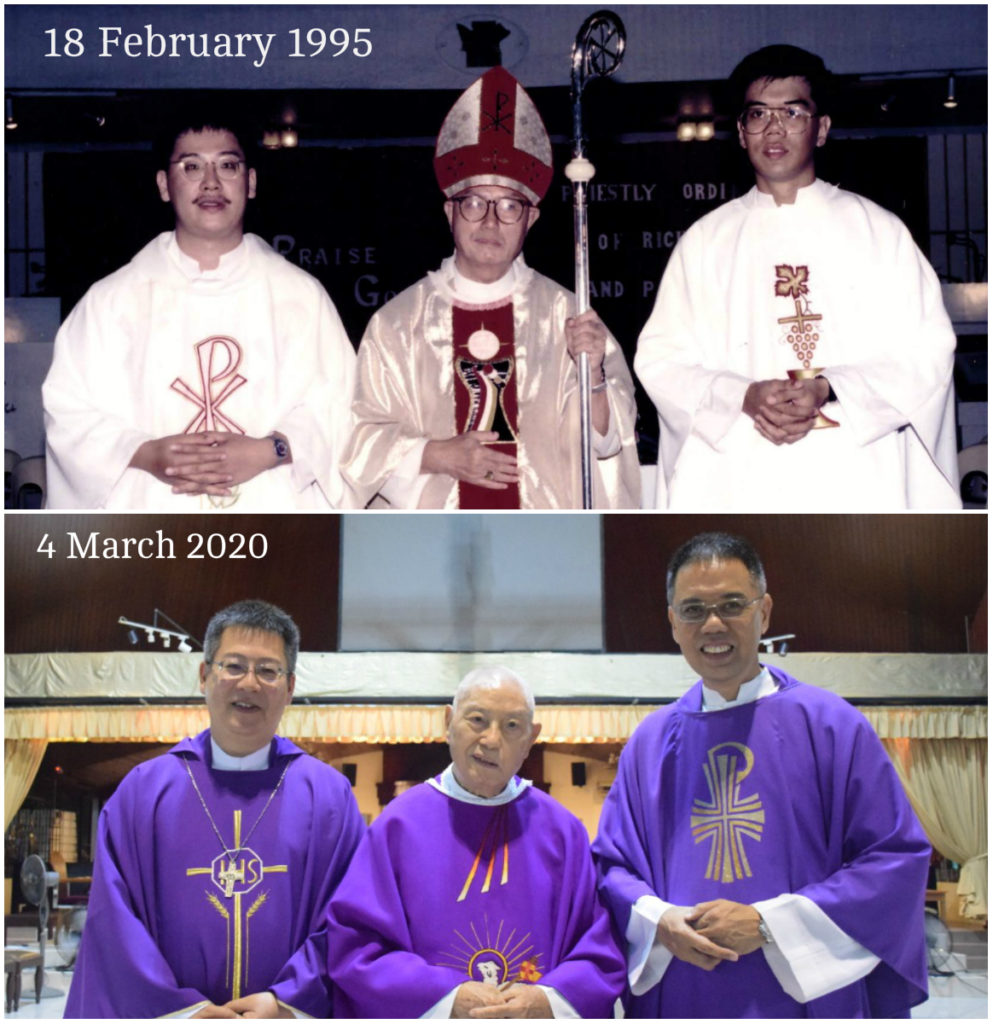 On 4 March 2020, both Bishop Richard Ng (Miri Diocese) and Fr Patrick Heng experienced what must have been epic moments in their lives when through the grace of God, they were able to come together and celebrate Mass with Archbishop Emeritus Peter Chung at St Joseph's Cathedral, Kuching. Emeritus (Archbishop then) had 25 years ago, ordained them as new priests at the same Cathedral. To follow the story, click HERE…
Listen to the inspiring vocation journey of Fr Simon Lau from the Archdiocese of Kuala Lumpur.

We encourage you to tune in to the live telecast of Masses for Vocation Sunday from St Joseph's Cathedral, Kuching through this LINK.
You will be pleasantly surprised!