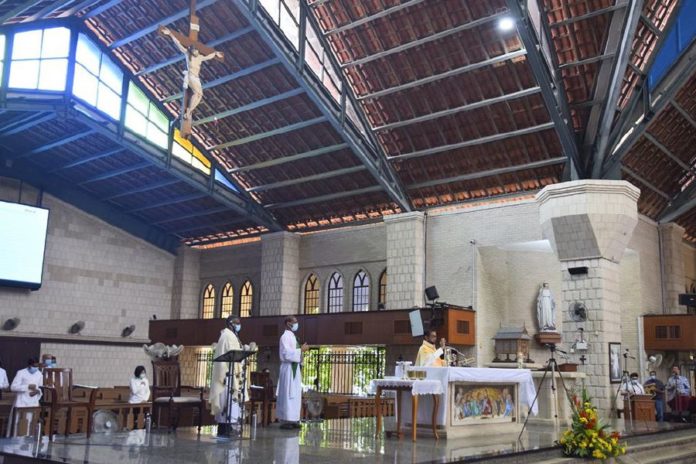 GEORGE TOWN — Malaysia's first Roman Catholic basilica – the Minor Basilica of St Anne in Bukit Mertajam, here – goes digital today.
Pilgrims and devotees of St Anne who traditionally make a beeline for the church in July every year for the Feast of St Anne, have been asked to turn to the Internet, due to the Covid-19 pandemic.
The website http://www.minorbasilicastannebm.com has been described as a "means to stay connected with one another, very specially this year, as being physically present together during the Feast of St Anne from July 24, 2020 – Aug 2, 2020 is not possible."
The iconic St Anne's Church was raised to the ranks of a minor basilica last October.
The pilgrimage church was founded in 1846 by French missionaries from the Society of Foreign Missions of Paris.
The Titular Roman Catholic Bishop of Penang, Reverend Datuk Sebastian Francis said in a statement, that the new website outlines various initiatives taken by the church to continue its mission to love and serve others in creative, inclusive and bridge-building ways throughout the 10-day Feast of St Anne this year.
Since the minor basilica's doors will be closed during the feast, the church is offering:
1. Live-streaming of Adoration and Benediction daily for an hour.
2. The Novena and Masses in Bahasa, Tamil, English and Mandarin will be live-streamed daily.
3. The viewing of the original statue of St Anne.
"Pilgrims and devotees who wish to light a candle, offer garlands and flowers, write petitions and prayer request to St Anne, may also do so through this digital means," the bishop added.
"Priests and the Bishop are just a call away, every day during the Feast of St Anne, should there be a need to speak to a priest for prayers and blessings," he added.
Pilgrims and devotees have also been invited to share, in all languages, their experiences and testimonies through the intercession of St Anne in the website.
"I take this opportunity to thank all pilgrims and devotees of St Anne, wherever they may be, with the variety of backgrounds, to witness to the world that the Minor Basilica of St Anne is truly a Shrine of Harmony," Bishop Sebastian said.