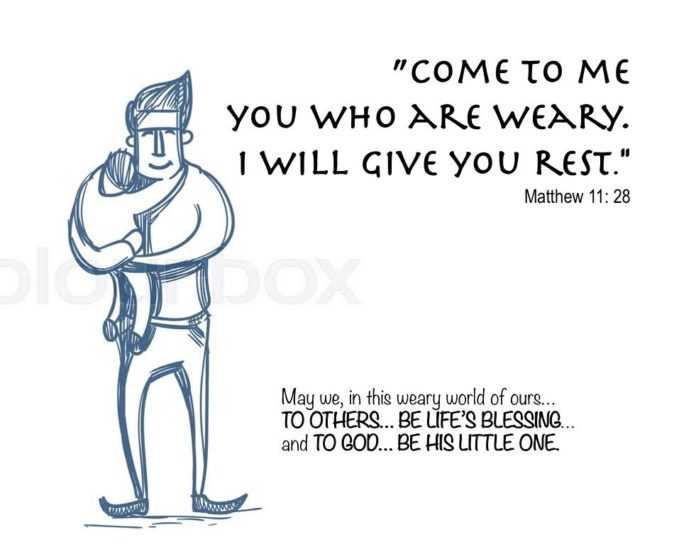 Gospel reflections – 14th Sunday in Ordinary Time
5 July 2020
Matthew 11: 25-30
"Come to me, all you who are weary… and I will give you rest."
"You have revealed them to the little ones."
TIRED?
MY LITTLE ONE…
THERE ARE THINGS IN LIFE THAT MAKE PEOPLE, JUST BY MERELY LOOKING AT THEM, FEEL SIMPLY SO RELAXED.
Like… being on a beach while watching a picture perfect sunset, that cool breeze on a not so sunny not so cloudy place, a bottle of ice-cold beer while sitting on a cozy sofa listening to soft music under the smell of that lavender incense, all after a long stressful day… wow, so relaxing, right?
For some, even just a simple shower, taking a nice bath, can be very relaxing… especially if you take a bath once a week only… I guarantee you, this is so relaxing, if not to you then to the people around you.
Do you have such things in your life? I really hope you have. Especially because life nowadays can be very taxing and heavy. It means a lot to have that something or someone that simply eases your burdens away and brings out that smile in you, that you have buried inside you since the start of your heavy day.
Have such please. You need that. Maybe for you it's that moment of reading a novel you like, watching a movie on-line, chatting with a friend. For some it's that picture of their wives. For others, it's that picture of others' wives…. Oh no… sounds trouble. For a while that may be relaxing. But after a while more that's gonna be more ruining than relaxing.
LIFE'S BLESSINGS…
THINGS, PEOPLE, SITUATIONS THAT MAKE US FEEL SIMPLY SO RELAXED.
Are there daddies/husbands here? Have you ever felt this… After a long day at work, you're so eager for 5 PM to strike so that you can rush home. And once you reach home, you see your lovely loving wife who welcomes you with her sweet kiss and your cute chubby baby who welcomes you with his genial smile. Wow! Every bit of your tiredness, gone. So relaxing indeed!
On the other hand…
THERE ARE THINGS IN LIFE THAT MAKE PEOPLE, JUST BY MERELY LOOKING AT THEM, FEEL SO TIRED.
Like… that always hated alarm clock on an early Monday morn, that big pile of laundry that every few days smile at you mischievously, that calendar in your office that's always filled with deadlines, or maybe your list of bills to pay, or your office table with all the paper there one on top of another all crying out loud 'urgent'…. Oh boy… tiring, right? Just by looking at even just one of these, that's it… all goodbye to my bliss.
"Father, I know my parents love me. But every time I see them, I feel pressured. I feel I always fail them. I'll never be able to meet their expectations. How I wish I can make them proud. But I doubt that. I've been trying and trying to always please them. And sometimes I just feel tired doing so."
LIFE'S BURDENS…
THINGS, PEOPLE, SITUATIONS THAT MAKE US FEEL SIMPLY SO TIRED.
WHICH ONES DO I HAVE MORE… LIFE'S BLESSINGS OR LIFE'S BURDENS?
Or maybe the better question to ask is…
TO THE PEOPLE AROUND ME, WHICH AM I MORE… LIFE'S BLESSING OR LIFE'S BURDEN?
Am I an "ice-cold beer" to them? Or am I a "list of bills to pay"?
In today's Gospel, Jesus gives us this good news, this big good news to our weary world… "Come to me, all you who are weary… and I will give you rest, peace, serenity. You who are tired, come. I'm gonna make you feel relaxed."
I think the Lord is inviting us. "Can you help me, please. Come, help me give rest to your weary brothers and sisters. There are a lot of them out there. I wanna make them feel well. Well, I'd love to do it with you, through you. Will you help me help them? Come to me. we will go to your brothers and sisters who labor and are burdened, and I, with your help, will give them rest."
In other words, the Lord is telling us, charging us with eagerness…
"Please, be an 'ice-cold beer', not a 'list of bills to pay'.
BE LIFE'S BLESSING, NOT LIFE'S BURDEN."
May we be that which when looked at, people get so relaxed. And not that which when looked at, people feel so tired.
"Lord, I do want to. Help you, I'd love that. Help my tired sisters and brothers, I'd love that too. But how can I? I myself am feeling so tired too."
Are you feeling tired now?
And not just tired… but sooo tired?
It's like… you've been feeling tired not just for a moment nor just for a day but for days and days… maybe even weeks… and maybe even far longer than that.
And nope, this is not just physical tiredness we are talking about here, something you can quite easily address. Just have a good night's rest, then tomorrow… voila! There you go, up and about. But there is a lot of other kinds of tiredness that is not just physical. Not only our bodies get tired. Our hearts too, our minds, our spirits.
Have you experienced being emotionally tired? Mentally drained? Are you in a relationship tiredness? Do you feel tired now of your routine? Your responsibilities? Tired of your situation which has been the same year after year? There is such a thing as kindness or service fatigue. You're doing good deeds and you eventually feel tired doing so. Are you?
"I've been working in this company for a long time now. Been doing the same boring thing again and again. Pay is quite good but I don't feel enthusiastic anymore. Tomorrow, it's Monday again. I'll drag myself out of bed again only to feel down again at work. I'm just tired of this job."
Maybe we will tell this guy, "You should be happy and thankful, you have a job. In this situation when a lot are getting laid off, a lot have no means to earn a living, those who have must be very grateful."
But then maybe to this he will respond, "I know that too. But that actually makes me feel even more sad and guilty. Instead of feeling thankful and high, I feel more demotivated and down. Haaay, I just feel so tired."
When was the last time you said… "I'm so tired"… with matching downcast face and heavy shoulders…?
"I'm tired of this relationship. I feel I deserve better. But I feel hesitant to end it and afraid to look for a new one. Start from scratch again? What if I never find another? Haaay…"
"I'm tired of this life. In fb and insta, I appear very pretty and happy. But the truth is… I feel empty. No matter what I do I still feel not good enough. I feel like a loser. Haaay…"
"I honestly love my family. But I can't deny it. I feel low. Nobody appreciates me here. I cook and clean. I care for him and them. But still they complain. I'm tired living this life. Haaay…"
"I cleared one loan. But I have two more. To pay the next, I need to apply to another. Loan, loan, loan… when will you ever leave me alone? Haaay…"
"I've been sick for years now. It started as a pain in my back, then another pain here and there. One day I was told I have cancer. And then more. I'm so sick and tired of this life. Haaay…"
"Pandemic for months now. And nobody knows when will all these end. I'm so tired of this lockdown. I'm so so tired of this covid. Haaay…"
The list can go on and on… people who are so tired… a lot of people tired for a lot of reasons. Haaay…
Tired… are you? And where does your tiredness come from?
Jesus in today's Gospel tells us…
"No matter where all your tiredness come from, just please come to Me.
And let your rest and relaxation, your joy and inspiration, come from Me."
What kind of rest is Jesus offering to us?
I think it has to do with what He tells us in the first part of today's Gospel… where he says…
"Praise to You, Father, for hiding these things from the mighty and revealing them to the little ones."
The rest that Jesus offers is one that is welcomed by a little one, received only by a little one, that humble and happy, trusting and entrusting little one.
I'm sure you've noticed this too…
The little ones, those children, they literally never get tired. They wake up and play and play and play. You want them to sleep because you're the one tired and sleepy already but they're still full of energy. Children, they don't feel tired. It's us, adults, who easily do.
One sign of aging is this… when you begin to get tired easily, often, and severely.
Remember your younger days? How energetic you were?
Look at you now. How tired you are.
MAY WE ONLY GROW UP… BUT NEVER GROW OLD.
So that even if our lives now have more maturity and responsibility… we have more cares and concerns now… I hope we do have, not just for our own good but for the good of others, of society, of humanity…. Even if we are not carefree children anymore… we remain childlike in our hearts. We remain God's little ones… simply so trusting and entrusting to Him.
The more you feel "ADULTY"… maybe with all your worldly accomplishments and experiences, you begin to feel mighty and learned and wise… the more stressed you feel, the more so tired you become.
But the more "CHILDY" you feel… with your honest and humble, happy and holy, faith-relationship with Abba/Daddy/Father God… the more relaxed you feel, the more relaxing to yourself and to others you become.
WHEN YOU'RE AN ADULT, you see life more as a problem to be solved, a project to accomplish, a process to improve and a goal to achieve. You so sound like my boss. That's why he makes me feel stressed. You so look like 'a list of bills to pay'. So tiring!
BUT WHEN YOU'RE A CHILD, you see life more as fun and wonder, with lots of something new to discover and something nice to experience, something both simple and special. You so sound like my friend. That's why he makes me feel serene. You so look like 'an ice-cold beer'. So relaxing!
MAY WE ONLY GROW UP… BUT NEVER GROW OLD.
Remember when you were just a baby? When you felt troubled and cried? Isn't it, instantly there was mommy, there was daddy, to the rescue, caring for and cuddling their dear baby?
Be that little one to God. Be always that little one. After all, God is your Big Daddy.
God is telling us now…
"Come to Me, my little one.
I know you feel so tired and weary. Feel my soothing embrace.
Let me cuddle you, relax you, uplift your drooping spirit.
Let me recharge you, revive you, recreate you.
Be my little one, please. No matter what adult-stuff life in your weary world throws at you, you still are and will always be my little one.
And I will always be your ever-loving life-giving Daddy."
"Father Ramon… even if God soothes me, I still feel so tired… because of your long homily."
Oops, sorry. But one last point please… as a fitting and hopefully touching ending.
From today's Gospel and reflection, I dearly remember that old Walt Disney movie I watched… and cried while watching… entitled "The Rescuers" with it's hearty song entitled "Someone's Waiting For You". It's about an orphan girl mouse trapped in an evil city. Good thing there came this group of agent mice to the rescue.
We are still in 2020, year of the rat. Some say that's why covid came, making us feel like rats, all trapped and tired, hiding in the dark.
In this world, our world now, filled with things, people and situations that make us feel tired, so tired… here comes our Daddy God to the rescue.
We are always His little ones.
Let us surrender to Him all our tiredness.
He soothes us, singing us His kindness…
Be brave little one.
Make a wish for each sad little tear.
Hold your head up though no one is near.
Someone's waiting for you
Don't cry little one
There'll be a smile where a frown used to be
You'll be part of a love that you see
Someone's waiting for you
Always keep a little pray'r in your pocket
And you're sure to see the light
Soon, there'll be joy and happiness
And your little world will be bright
Have faith little one
'til your hopes and your wishes come true
You must try to be brave little one
Someone's waiting to love you
Especially in this Holy Mass… after months of lockdown… behold… your God… Someone waiting for you.
May we, in this weary world of ours…
TO OTHERS… BE LIFE'S BLESSING… and TO GOD… BE HIS LITTLE ONE.
Fr Ramon Borja, SDB
Commission for Youth