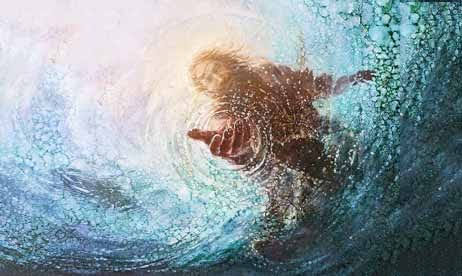 Gospel reflections – 19th Sunday in Ordinary Time
9 August 2020
Matthew 14: 22-33 PETER… I ENVY YOU
"But when he saw how strong the wind was he became frightened; and, beginning to sink, he cried out, 'Lord, save me!' Immediately Jesus stretched out his hand and caught Peter."
I envy you, Peter, I envy you…
You realised that you were drowning and you accepted it humbly.
So unlike me… sometimes… and at times many times…
Even if actually I'm already drowning deep
I fail to realise it…
And even if I do realise it, I fail to accept it.
Or worse, I choose to ignore it…
Thinking that I'm still ok… that things are just fine.
Even if the truth is… I'm not… they are not.
I Envy you, Peter, I envy you…
Yes, you felt afraid… but you were true to yourself…
Even if you sounded like a coward and you looked like a fool…
You were honest and humble enough
To say that you're so scared, to admit that you need help
And above all… you turned to Him and said,
"I need You, Lord. Please, save me!"
I admire you, oh Peter. I envy you so.
While here am I… sometimes… at times many times…
Already drowning so deeply yet still ignoring Him so coldly.
"I'm fine on my own… I can handle my own mess.
And if ever I fail to, never mind. So what if I'm a mess?
Do I really need His kindness? Will He really show me His goodness?
I'm not even sure if He is real. And if He is, will He care for me for real?"
Even if the truth is… it is I who doesn't care about Him for real.
I envy you, Peter, I envy you…
May I, like you, see reality and call on Him, The Almighty.
For sure, as He did to you then, He will to me now
Stretch His hand to catch me, to raise me, to save me so.
Because the truth is… I'm drowning deep… and I need Him so.
Questions for reflection:
Are you also 'drowning' now? In what?
Loneliness? Lovelessness? Laziness? Lustfulness? Listlessness?
Is this prolonged pandemic actually causing you to get drowned and drowned and drowned?
Are there things in your life that maybe you just fail to see but they are pulling you down and down and down?
Do you feel like you're ok… even if actually a bigger deeper part of you says you are not?
And if you do realise that you're in trouble, would you ask for help?
From where? From whom?
Will you turn to Him to rescue you? Would you believe that He would?
Really? Deeply?
Will you also say and plead, "Please, Lord, save me!"?
If you would… then I also envy you.
Fr Ramon Borja, SDB
Commission for Youth