By Joe Leong
KOTA KINABALU — This year, 2020, marks the 40th year of the Neocatechumenal Way's existence in Malaysia. The first neocatechumenal community was formed on Sept 7, 1980 at the Sacred Heart Cathedral (SHC) parish when the late Fr Tobias Chi was the Rector.
Bishop Simon Fung was the first bishop to open the door for the formation of these communities in Malaysia. Over the past 40 years, the number of communities have grown to a total of 43 in the Archdiocese of Kota Kinabalu, the Diocese of Sandakan and the Diocese of Sibu, in Sarawak.
Fr Paul Lo, Rector of SHC parish, presided over a Eucharist with the 1st Community of the Neocatechumenal Way to celebrate the 40th anniversary of the Way in Malaysia on Sunday Sep 6, 2020.
Con-celebrating with him were three other priests: Fr Saimon Williams, an assistant parish priest at SHC; Fr Joshua Liew, who is on study leave; and Fr Tony Mojiwat who is presently serving at St Pius X Parish, Bundu Tuhan.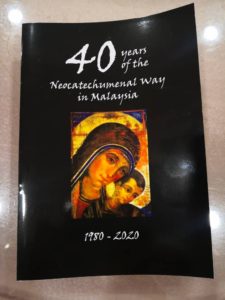 The communities have produced a souvenir booklet to mark the occasion, in which they recorded a brief history of the Neocatechumenal Way in the country.
During the early 1980s, catecheses were given at the SHC parish in Kota Kinabalu, Stella Maris Church at Tanjung Aru, St Paul's Church at Dontozidon, St Thomas' Church at Kepayan, St John's Church at Tuaran and St Mary's Church in Sandakan.
The booklet gives an account of the visits of initiators of the Way, Kiko Arguello and Carmen Hernadez with Fr Mario Pezzi in 1996 and again in 2002 in conjunction with the Asian Bishops' Convivence in April that year.
The gathering of 374 participants, including bishops, priests, cetechists and families in mission from Asian countries, was hosted by the Diocese of Kota Kinabalu.
Bishop John Lee, as head of the diocese, said in his welcoming remarks on the first day of the bishops' meeting that the church in Asia was moving into "a new way of being Church".
He added that the journeying together in small communities seemed to be the common pastoral goal.
The booklet also gave an account of Archbishop John Wong sending out about 120 men and women, priests and lay people from the neocatechumenal communities in Sabah and Sarawak on a 2-by-2 mission to announce the Gospel without money, hand phones, or a change of clothing in July 2017.
After the Eucharist at the SHC parish centre, the community continued with the celebration of their 40th anniversary with a banquet at a local restaurant.