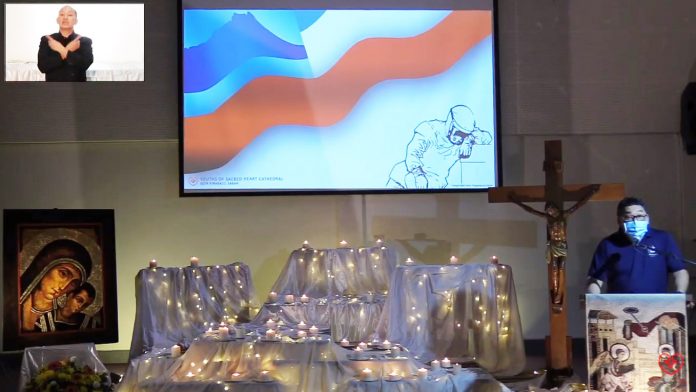 By Aline Lim
KOTA KINABALU — Alarming increase in the number of positive COVID-19 cases, exhausted and fatigue medical frontliners, cries of fears and uncertainties of the future for Sabah; these have become the headlines in recent days, and thus became the objective of the prayer night initiative.
The idea was initiated by parish priest of Sacred Heart Cathedral (SHC) parish, Fr Paul Lo, who was genuinely concerned and burdened by the cries of the people. He saw the urgency of it and called a few youth for a meeting to discuss the matter, resulting in the decision to have this prayer night on Mission Sunday Oct 18.
Our Mission at the parish was to gather as many people as possible, via live broadcast, to pray for Sabah, especially for our frontliners and all who are affected by COVID-19.
The live broadcast, which attracted more than 10,000 views, began with a brief introduction by Fr Joshua Liew, who outlined the purpose of the prayer night.
In the span of a few days prior to the prayer night, our priests managed to invite two doctors who are COVID-19 frontliners, to share their experiences while dealing with this unprecedented pandemic. They shared the challenges of working long hours in their PPEs and of missing their loved ones. They encouraged everyone to follow the government given SOPs, and to continue to pray for the flattening of the COVID-19 curve.
One of our youth, Jennifer, shared a reflection based on the proclamation of the readings from Lamentations 3:17-26, the Psalms, and the Gospel of Matthew 8:23-27.
"We are asking questions like 'When can I go out again? When can I go for Mass again?'" suggested Jennifer.
"The coronavirus is revealing a fear. The coronavirus did not put the fear there, but it is revealing a fear that has always been there; a fear of loss, of death, of uncertainty, of insecurity, and arriving at the ultimate question: 'Is there still hope?'" she offered for reflection.
She quoted Pope Francis' homily during his ubi et orbi blessing earlier in March this year, "Like the disciples in the Gospel, we are all caught in an unexpected and turbulent storm. All of us fragile and disoriented were just like those disciples who spoke anxiously saying, 'We are perishing!' It is easy for us to recognize ourselves in this story.
"What is harder to understand is Jesus' attitude. While the disciples are naturally alarmed and desperate, He is soundly asleep, trusting in the Father in the middle of the tempest threatening to sink their boat. When he wakes up, He turns to His disciples saying, 'Why are you terrified, oh you of little faith?'
"Faith begins when we realize we are in need of salvation. We are not self-sufficient; by ourselves we flounder: we need the Lord, like ancient navigators needed the stars. Let us invite Jesus into the boats of our lives. Let us hand over our fears to him so that he can conquer them.
"Like the disciples, we will experience that with him on board there will be no shipwreck. Because this is God's strength: turning to the good everything that happens to us, even the bad things. He brings serenity into our storms, because with God life never dies."
She also highlighted Pope Francis' words during his general audience last Wednesday, that the purpose of crying out to the Lord in prayer is not to get used to suffering, but to remember that it is God, not humankind, who is the only source of salvation and consolation.
Fr Paul translated the reflection in Bahasa Malaysia and Mandarin, which was followed by a 10-minute silence, and the recitation of the Rosary led by the youth.
Among the petitions offered up were, for the COVID-19 and political situations in Sabah, for the frontliners especially those in the medical field, for those who contracted the virus, for all families, for our priests and for all Catholics to cease being complacent, but to strife for holiness in this challenging time.
The night concluded with a final blessing by Fr Russell Lawrine and a classic hymn "Be Not Afraid".
The feedback was encouraging and positive. Some felt a sense of unity and solidarity as we gathered virtually to pray, while others felt moved by the prayers offered.
For the parish youth, this was the least we could do. While we might feel helpless and disheartened by everything that is going on, we must continue to pray because it is our only weapon in this time. We must hang on to hope and to the words of our Lord, "What is impossible for man, is possible for God." (Luke 18:27).