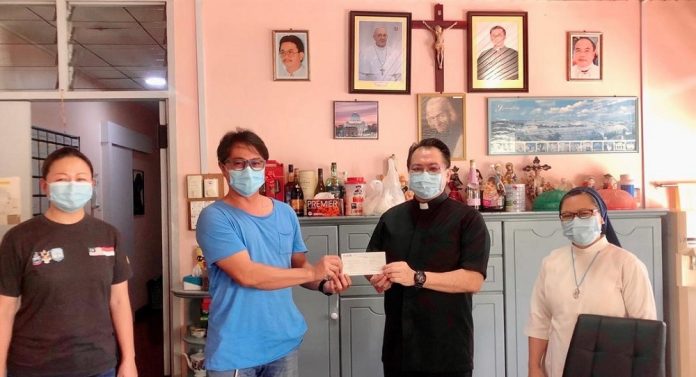 By Agnes Chai
KARAMUNSING, KK — True to its mission, Sacred Heart Cathedral Parish Human Development Committee (SHC/PHDC) chipped in three days of hot meals for frontliners beginning Nov 2 until Nov 4, which works out to a total of 1,200 meal packs.
The parish committee learned of the local catering service that serves hot meals for frontliners, and decided that this is a way to assist in humanitarian emergencies, as well as a way to bear witness to God's love in public spaces through its mission to attend to those in need.
With the concurrence from the Cathedral parish priest, Fr Paul Lo, the committee got in touch with the initiator of the food charity drive, Rebecca Chin, a Sabahan who felt that there must be something she could do to help the embattled healthcare workers at the frontline of the pandemic.
"Hot meals for frontliners" started out originally as a personal food drive to give something back to the healthcare workers in Sabah, which quickly and unexpectedly developed into a full-fledged daily mission.
Rebecca turned to friends Kathie and Shone Majimbun, a husband-and-wife team who run Shoney's, an eatery in town, soon forged a partnership and began delivering free hot lunches to tired and battered frontliners as a way to making them feel supported. In a day, the trio would prepare 400 meal packs to be delivered to Queen Elizabeth Hospital1. Since starting the drive Oct 20, they have managed to provide over 6,400 meal packs.
Asst parish priest Fr Saimon Wiliam handed over a cheque of RM6,000, from the donations received from generous people, to Shoney's owners, Shone and Kathie at the Sacred Heart Rectory Nov 2, witnessed by Sr Anita James as contribution for hot meals to frontliners.