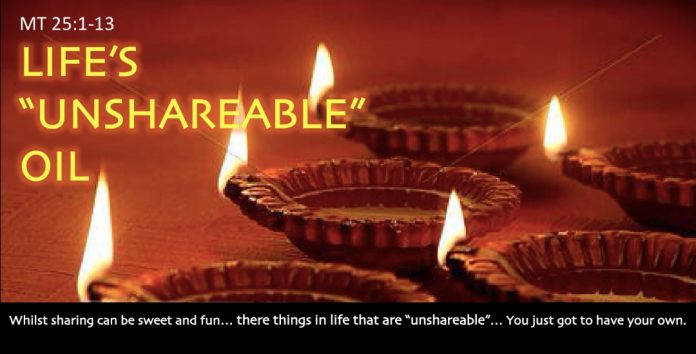 Gospel reflections – 32nd Sunday in Ordinary Time
8 November 2020
MT 25:1-13 LIFE'S "UNSHAREABLE" OIL
Sharing is sweet and fun, right?

Remember when you and your gang were drinking tuah/lambanog/brandy… using just one shot glass?  Tagay pa more!  Yamseng!  Tarataratraaa ooooh aaah!
Remember when you were young and you already had your own gang… (although no drinking of alcohol yet at that time, right?  At least, that's what others thought)… and it was raining after school and only one of you had an umbrella… and so all five of you walked under the rain together under that one umbrella, just enough to keep your heads and hair dry… but only your heads and hair dry?  Feels cool right?
Remember when you grew older and still you walked under the rain with only one umbrella… but this time you were not anymore with your gang but with your girlfriend? Feels more cool right? Hmmm… I think it felt more warm than cool, though….
And remember, after that 'under the rain walk with only one umbrella', you and your girlfriend had cappuccino in Starbucks, sharing coffee using only one cup? So romantic, aaahhh… and so economical too, yeah!
Enough with examples. The point is… to share things with people, especially with persons dear, is truly awesome. Doing so deepens the bond, the relationship. It makes the care and closeness, the solidarity and love, get even stronger and deeper.
I remember, when I was a seminarian, I had days and nights of living with a simple family of farmers in one village. I saw in that family, mommy and daddy eating over one plate, and three children using only one plate. They not only shared one meal together. They literally shared one plate with one another. Touching!
Sharing… isn't just sweet and fun. It's also intimate, sublime.
As children of God who is love, God who is compassionate to all, inviting and welcoming everyone to His grace and salvation, let sharing run in our blood.
However… today's good news is this… SOME THINGS IN LIFE CANNOT BE SHARED. 
No matter how you want to, out of deep love, you still cannot and don't have to.
Remember when you took that so difficult exam? Your genius and generous best friend classmate so wanted to share with you his surely correct answers, but he did not, right? He did? Oh no! Taking an exam is a purely personal thing. Nobody can and should take it for you nor share answers with you.
Remember when you took that free-kick during that crucial football game? Your best friend star player teammate wanted to take the shot himself instead of you. The coach even wished he would, not you. But sorry for them. He who gets fouled takes the free-kick, one-on-one with the goal keeper. It has to be you. No one else should but you. And so you did. And after your free-kick… a big applause! I just don't know if it was your team or your opponents that applauded.
One last example. Remember when you went to the operating room? And your parent or spouse who loves you so was there? He actually sincerely wanted to be the one to go through all the pain and danger of that operation, if only that is possible. But sorry, he cannot. Going through such an ordeal is something 'unshareable' even in the context of true and deep love.
Again… today's good news is this… WHILE SHARING FOR SOME MATTERS IN LIFE IS LOVELY AND SOMETIMES EVEN NECESSARY, THERE ARE SOME THINGS IN LIFE THAT CANNOT BE SHARED.  WE HAVE TO HAVE THEM ON OUR OWN….  AND IT TAKES A WISE PERSON TO KNOW WHICH IS WHICH.
Faith… salvation… a good life here and eternal life after… Be wise enough to know that these are personal things… very important things that a person ought to have… and ought to have as his own.
Using the story and words from the Gospel of today, these are things, vital things, that the wise virgins cannot and should not share to the foolish; these are things that they should have on their own; these are things that they should buy for themselves. We have the example of the wise ones who had their lamps with enough supply of oil to keep their lamps lighted and burning bright all day and night long. Let us learn from the mistake of the foolish ones who ran out of oil.
Join me in ardent prayer…
"Lord, please, make me wise.  Sometimes I feel that my lamp is flickering.  I'm running out of oil.  My zest for life, my pursuit for holiness, my wish to get closer to you, my longing for a meaningful life, my desire to do good, to pray deep, to care more, to be compassionate even in difficult and in dry times, to spend more quantity and quality time with you, to be of service to people self-sacrificingly, to make things that matter, to right the wrong, to fight for what is good and right, to embrace your call and your care, to be that passionate and remain that serene… all these and more… I'm running out of them.  My lamp is flickering.  I'm running out of oil.
Yet I know, Lord, and you are lovingly reminding me of this today… that only I can, only I should, make that decision for myself.  It has to be me making that personal, sincere and responsible choice.  Nobody can for me.  To have faith in you, to live a life of love for you, to keep my lamp lighted and with enough 'unshareable' oil to keep it brightly burning all day and night long… this has to be my decision.  May I be wise enough to do so, Lord."
Fr Ramon Borja, SDB
Commission for Youth