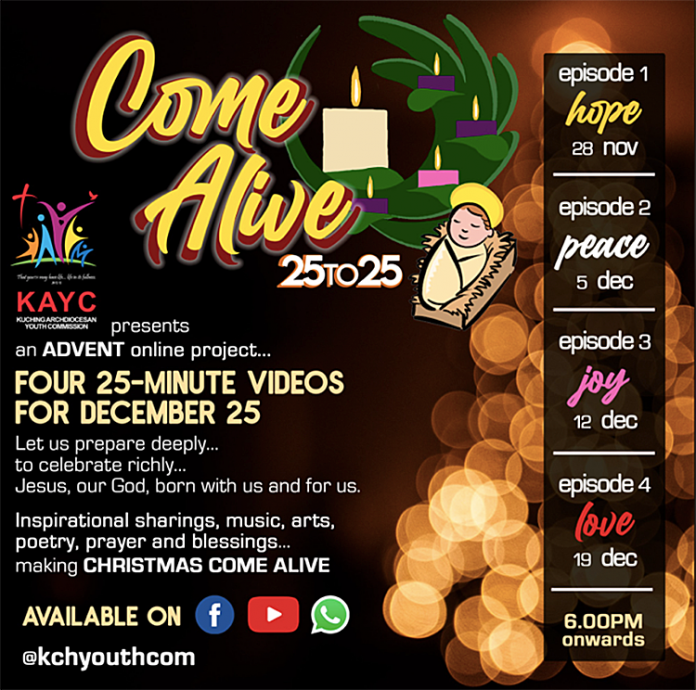 KUCHING — No doubt about it, Christmas is going to be very different for all of us this year. But guess what? It doesn't need to be dry, right? Join us, let us make Christmas 2020 COME ALIVE!
As we remember with gratitude and gladness Jesus' birth and coming amidst the challenges of the pandemic and all the problems it brings, let us invite, or rather, let us allow God's loving saving grace, this year more than ever for the need is far greater, to make the spirit of the season fill our very challenged lives.
The Youth Commission of the Kuching Archdiocese (KAYC) is offering us an online experience to make our Advent season a meaningful preparation and our Christmas season a fruitful celebration of Jesus' birth and coming. Entitled "COME ALIVE 25 to 25", this program is a four-week posting of a 25-minute video each of inspirational sharing, music, arts, dance, poetry, prayer and blessing, presented by the many generous and gifted sisters, priests, lay, young and old, from the whole Kuching Archdiocese. All the four videos present to us, one after the other, the four themes of Advent, namely, Hope, Peace, Joy, and Love.
In each of the four videos, there are the lighting of the Advent wreath candle, the proclamation of God's word, prayer response, messages and witnessing, and final blessing. We thus invite and encourage all of us to make these "Come Alive" videos our weekly Advent prayer experience which we may do personally or with our family, friends, or church community.
KAYC will be posting these videos in their Facebook, Youtube and WhatsApp every Saturday at 6.00 pm starting this 28 November, the first Sunday of Advent. Catch all the four episodes through…
KAYC Facebook: Come Alive 25 to 25 Playlist:
https://www.facebook.com/kchyouthcom/videos/
KAYC YouTube: Come Alive 25 to 25 Playlist:
All these aim at one thing — to make 25 December, in the lives of everyone, truly COME ALIVE.
Be filled with God's HOPE, PEACE, JOY and LOVE this ADVENT and usher CHRISTMAS with Jesus "coming alive" in your life. With your family and friends, join us! 😉❤️🌲
PS: As an addendum, and as a fitting conclusion, the Kuching Young Christian Students (KYCS) is offering online also a Christmas Concert on 26 December:
Kuching Archdiocesan Youth Commission