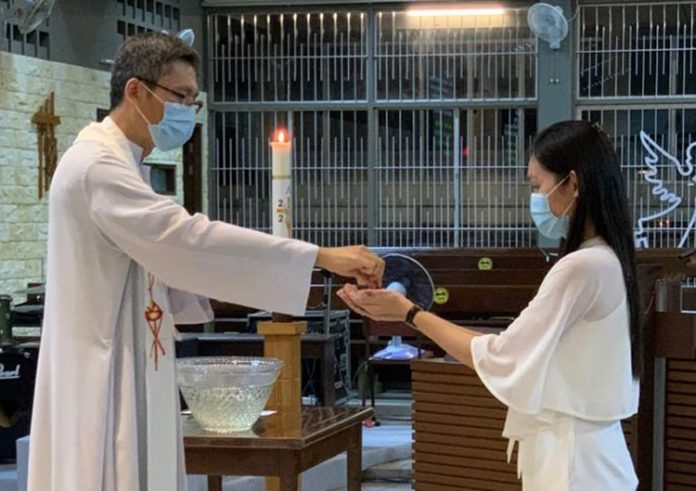 My name is Michelle. This is the story of my journey to becoming a child of God.
I was a free thinker and my parents are Buddhists. I have followed them to the temple on festivals in the past. However, I realised that I did not have any motivation and I felt hopeless for things which were beyond my control. I usually felt helpless in my relationships, my work and my emotions.
I thank God that I met my fiancé during my helpless moments. He is a Catholic and he encouraged me to join him to go to church and invited me to know more about God. And that is why I joined RCIA.
In my first class of RCIA, I got to know who is Our Father and his beloved Son, Jesus; and how Jesus was born on earth to save us all. Through RCIA, I have also learned to rely on God.
I started to pray and I share everything with Jesus—whether my happiness or my depression. Slowly, I discover my attitudes and mindset changing, as I did not get hot tempered easily and I feel blessed for all the things I already have.
From the RCIA sessions, I came to know more about the church. All the actions and processes done by the priest at Mass is a reflection of Jesus and all his disciples. I finally got baptised on Friday, 23 Oct 2020 at Holy Trinity Church. In the homily, the priest said that this is just the beginning of our journey towards God and not the end.
2020 is the toughest year for everyone by far, as the whole world is suffering from the effects of the Covid-19 pandemic. We are indeed so powerless and insignificant but what we can do is to believe in God and pray for his blessing that we will go through life's trial.