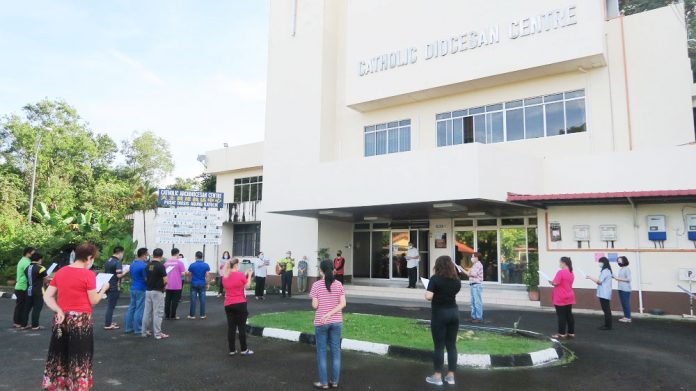 By Agnes Chai
PENAMPANG — The surprise Advent carolling at the morning prayer of the CAC community Dec 9 created a palpable sense of longing for Christmas and "family closeness" among the aspirants and diocesan staff.
Unable to hide his own surprise, Archbishop John Wong exclaimed "If I am not wrong, this is the first time that such a thing has happened at CAC," referring to the first-ever open-air carolling.
The communal morning prayer has always been conducted in the open air facing the small foyer at the entrance to the CAC building.
CAC, acronym for Catholic Archdiocese Centre, is the premises of the Archbishop's office located in the district of Penampang. With him are his supporting administrative staff and pastoral support staff from the various Commissions. It also houses the Formation House of the aspirants, under the care of their rector.
The Archbishop ventured to comment that the innovative gesture was perhaps the outcome of the COVID-19 pandemic which discourages carolling in the normal way this year.
But in a mock serious manner and with a hint of humour, he said "Ah, the staff is doing it differently because this will be the last time they will sing carols here, as we will soon be moving to the new premises," which drew much laughter from the staff.
Kathy Ah Ting, diocesan staff, confirmed that the social committee came up with this creative and innovative idea of singing carols with the aspirants, within SOP restrictions, before they leave CAC the coming weekend.
Though the pandemic has wrecked the traditional Christmas plans for the CAC community, including the annual staff Christmas gathering, the bright side of it could be seen in the unleashing of the creativity and innovation within the community in finding new norms of celebrating the birth of Jesus Christ.
With the news constantly reminding us of the reality we are in now, and of our mortality, gestures that spring from a desire to bind people more together means a lot, mused another staff.
Meanwhile, the aspirants were "happily surprised" by the staff carollers and were appreciative of their warm affection for them. Without realising it, the time has come for them to leave for their semester break, said aspirant Mejoery Simon. Speaking on behalf of his batch, he congratulated the staff on the imminent grand opening of the new CAC building next year.
Looking back the year, the pandemic has posed a challenging year for the aspirants. Many of their work and exam schedules have been disrupted, but like the rest of the community staffers, they too were grateful to God for the grace to come through the challenges and looking forward with new hope and positivity in the post-COVID-19 era.