Oleh Ivy Chai
KUCHING — Biara Carmelite Hati Tanpa Noda Dosa Maria merayakan ulang tahun ke-60 Ikrar Religius Sister Mary John of the Cross pada 8 Disember lalu.
Pandemik COVID-19 telah membataskan perayaan Jubli Intan itu kepada kehadiran hanya sekumpulan kecil anggota keluarga, saudara-mara dan rakan-rakan karib Sister Mary John.
Misa Kesyukuran yang dirayakan di Chapel Carmelite juga diadakan sempena Hari Raya Kelahiran Perawan Maria Tanpa Noda Dosa. Ia dipimpin oleh Uskup Agung Kuching Simon Poh, bersama Uskup Agung Emeritus John Ha dan Fr Larry Tan, SJ yang sama-sama merayakan Misa.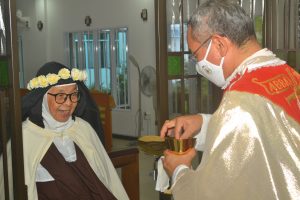 Uskup Agung Simon menyifatkan golongan biarawati Carmelite sebagai para rohaniwati yang telah menyerahkan kehidupan mereka sepenuhnya kepada Allah. Mereka menjalani kehidupan yang penuh kepatuhan, kemiskinan dan kesucian; hidup dan tinggal dalam lingkungan tembok biara. Beliau menyeru kepada kongregasi itu untuk berdoa bagi Sr Mary John dan semua rohaniwati di Carmel, dan menambah "mereka juga berdoa untuk kita".
Prelatus itu memberi pengiktirafan dan mengucapkan terima kasih kepada mendiang ibu bapa Sister Mary John, iaitu Simon dan Anna, serta adik beradiknya yang hadir di upacara itu, kerana menganugerahkan dua orang rohaniwati iaitu Sister Mary John dan Sister Dominica of the Blessed Trinity.
Allah menciptakan aku untuk mengenali-Nya, untuk mengasihi dan melayani-Nya di bumi ini dan untuk berbahagia bersama-Nya selama-lamanya di Syurga.
Sr Mary John of the Cross
Sr Mary John dilahirkan pada 29 April 1942 di Sibu. Ibu bapa beliau menamakan beliau Apolina Chai Joon Sian. Beliau merupakan anak ketiga mereka. Beliau bersekolah di Sibu, Sarikei, Kanowit dan kemudian di Sekolah St Teresa, Kuching.
Ini adalah kisah beliau …
Sr Mary John membesar sebagai seorang kanak-kanak yang aktif dan agak nakal. Apabila ditanya siapa yang beliau inginkan sebagai seorang teman hidup, beliau menjawab, "Oh, dia mestilah putera yang paling tampan dan kaya, dapat membina istana kubu yang tinggi dan tahan di mana kami dapat hidup bersama buat selama-lamanya." Beliau telah ditegur kerana jawapannya itu.
Beliau sama sekali tidak sedar ketika itu bahawa beliau menggambarkan "Putera Kedamaian, Yesus Kristus". Pada usia lima tahun, pilihan beliau "yang bodoh" sebagai teman hidup … "putera paling tampan dan kaya" ternyata adalah Yesus.
Ia ternyata saat yang menjadi penentuan bagi diri beliau apabila beliau menyedari perkara ini ketika beliau membuat Ikrar Pertama beliau pada 8 Disember 1960. Sr Mary John mengalami kebahagiaan dan kemenangan menerusi kesedaran bahawa beliau dicipta bukan untuk kehidupan duniawi, tetapi kehidupan yang dikonsekrasikan kepada Allah.
Perjalanan konsekrasi religius beliau …
1 Januari 1959 – pada usia muda 16 tahun, beliau memasuki Biara Carmelite.
2 Julai 1959 – Menerima Jubah Carmelite.
8 Disember 1960 – Ikrar Pertama.
8 Disember 1963 – Ikrar Rasmi. Dengan sukacita melayani komuniti beliau sebagai 'Portress', Pembuat Roti Altar, Sakristan dan 'Wardrober'.
1984 – 1985 – Dilantik sebagai Pembantu Mistress.
1985 – 1987 – Mistress Para Novis.
1993 – 1996 – Dipilih menjadi Prioress (Ketua Biara).
1996 – 1999 – Mistress Para Novis dan Kaunselor Pertama.
1999 – 2002 – Dipilih menjadi Prioress.
2002 – 2005 – Dipilih semula sebagai Prioress.
2005 – 2008 – Dipilih sebagai Kaunselor Pertama.
2008 – 2011 – Dipilih menjadi Prioress.
2014 – 2017 – Dipilih menjadi Prioress.
Apabila ditanya bagaimana perasaan beliau selepas memperbaharui ikrar religius selepas 60 tahun, Sister Mary John kelihatan berseri-seri dan dengan senyuman yang lebar menjawab: "Saya rasa sangat gembira dan tenang."
(Terjemahan)
---
Berita dalam Bahasa Inggeris: Carmelite nun celebrates Diamond Jubilee of Religious Consecration